Whether you're renovating your bathroom or replacing an old toilet, like many others, you probably haven't put much thought into what the best toilets to buy are. But if you're on this article, it's certainly a good place to start.
So here is our answer to best toilets 2023. Let's look at the 8 best toilets of 2023, and a guide on how to know which one is right for you!
Our Top 8 Picks of the Best Toilets to Buy in 2023
Don't let the vast numbers of latrines on the market confuse you. Here are our top picks, ranked according to budget, functionality, features, and gallons per flush ratio.
Image
Product
Features
Price

TOP PICK

1. Toto UltraMax II (Best Overall)

Tornado flush system
Highly efficient water usage
Universal and comfort height 

Check On Amazon

BUDGET PICK

2. TOTO Drake II (Best Two-Piece Toilet )

Great Price
Double Cyclone flushing technology
Saves up to 20% water

 

Check On Amazon
3. Kohler Santa Rosa (Best One-Piece Toilet)

Efficient water usage system
Convenient and easy cleaning
Compact elongated toilet bowl

Check On Amazon
4. Kohler Wellworth (Best Noiseless Toilet)

DryLock installation system
Ideal for bathrooms with less space
Powerful class five flushing technology

Check On Amazon
5. KOHLER Memoirs Stately (Best Designed Toilet)

Comfort height for adults and the elderly
Powerful flushing with less noise
Comfortable seat for your backside

Check On Amazon
6. Toto Washlet G400 (Best Fancy Toilet)

Universal height
WASHLET bidet seat toilet
3D Tornado flush technology

Check On Amazon
7. American Standard Champion 4 (Best Flushing Toilet)

Efficient water usage
Comfortable toilet experience
Available in attractive shades

Check On Amazon
8. American Standard H2option (Best American Standard Toilet)

Lowest water consumption rate
Great price
Dual flush option 

Check On Amazon
1.   Toto UltraMax II – Best Overall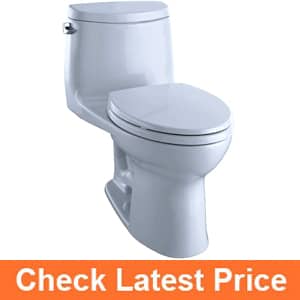 With its impressively efficient water usage system and super smooth flushing system, the Toto Ultramax II makes an easy top pick. This is the perfect mid to high-range toilet that will stand out to anyone.
The UltraMax's impressive 1.28 gpf water consumption is facilitated by the integration of the brand's renowned Tornado Flush system, which creates a powerful cyclonic rinse using a unique mechanism of dual nozzles.
What we love most about Toto toilets, though, is the Cefiontect glaze, which contributes to a slippery sort of surface that ensures your waste won't stick to the bowl. That means fewer cleaning sessions for you!
And not to mention, it looks beautiful, with its sleek one-piece design that is also super easy to keep clean. The soft-close seat also adds a touch of luxury and prevents the unpleasantness of slamming!
Pros
Tornado Flush system uses dual nozzles and centrifugal force for powerful flushing
Highly efficient water usage of only 1.28gpf
Universal height offers comfort for most users
Cefiontect glaze keeps the toilet bowl clean for longer
Cons
Design makes it hard to use a plunger
2.   TOTO Drake II – Best Budget Two-Piece Toilet (Best Budget)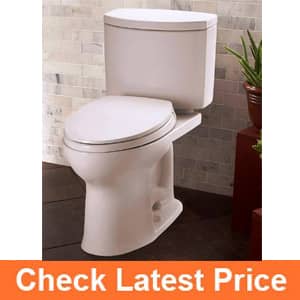 One of the most prominent names in the world of toilets, Toto, offers a wide range of water closets that will suit the needs of the majority of buyers. Our first pick is the ideal choice for those of you who are on a budget.
Constructed from durable vitreous china, this two-piece toilet is going to fit perfectly into any small to medium-sized bathroom. It has the classic look of a traditionally designed two-piece toilet, so if you want a conventional aesthetic for your bathroom, this is a good pick.
What stands out most about this toilet is its integration of Toto's Double Cyclone flushing system, which swaps out rim holes for nozzles. The result is not only 20% less water usage but also easier cleaning of trapped dirt. Do note, however, that this toilet does not come with its own seat, so you'll have to buy that separately.
Pros
Available in four attractive shades of white and beige
Equipped with highly efficient Double Cyclone flushing technology
Produces very little noise while flushing
Saves up to 20% water when flushing
Cons
SanaGloss coating is not very durable
3.   Kohler Santa Rosa – Best One-Piece Toilet
Kohler's toilets are easily recognizable by their smooth, sleek designs and efficient cleansing systems. With a smaller seam between the bowl and the tank, this one-piece toilet is also super easy to clean, which is one of its standout features.
And speaking of convenience, this toilet also offers ultimate accessibility thanks not only to its comfort height specification but also its elongated toilet bowl. Add to that the quiet-close seat, which ensures that you won't be waking the whole house up on your midnight bathroom trips.
Worried about saving space? Don't be! This toilet's bowl has a compact design that takes up as much space as a regular round bowl. The toilet itself is also small in size yet has a pretty imposing presence.
This toilet is also super efficient in how much water it uses, with a 1.28 gpf. Say goodbye to higher water bills! You'll also surely appreciate the durability of the precision-engineered tank, which ensures that the toilet will serve as your throne for many years to come.
Pros
Equipped with a highly efficient water usage system
Designed for convenient and easy cleaning
Compact elongated toilet bowl offers comfort and takes up less space
Brevia quiet-close seat prevents annoying slamming
Cons
Does not come with its own wax ring
4.   Kohler Wellworth – Best Noiseless Toilet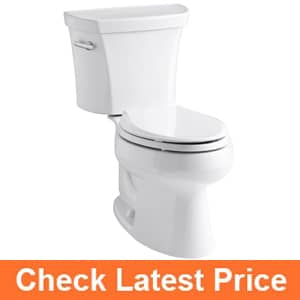 Our forth pick is also from Kohler, and we've picked it especially for you shy poopers out there. If your bathroom is situated close to a common area in your home, such as the dining room or living room, then you will no doubt be able to understand the value of this virtually noiseless toilet.
Outfitted with Kohler's Class Five flushing technology, this toilet uses a gravity flushing system that creates a particularly strong siphon. The result is an instantly clean bowl. This combines with a 1.28 gpf that allows you to save up to 16,500 gallons of water per year.
Meanwhile, the elongated bowl ensures you'll have a comfortable experience every time. And, lastly, it looks beautiful! Who would have thought a toilet could look so utterly graceful? Not us, but here we are!
Pros
DryLock installation system makes your life easier by preventing leaks
Compact size ideal for bathrooms with less space
Powerful Class Five flushing technology with plug-free siphoning
Available in rough-ins of 10″, 12″, and 14″
Cons
Might be a bit too short for some users


5.   KOHLER Memoirs Stately – Best Designed Toilet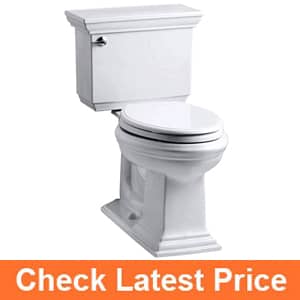 Yet another Kohler toilet? What is this, a Kohler fan club? Well, it makes sense why it's one of the best toilet brands, given how amazing their water closets are. This particular two-piece has a design that sets it apart quite distinctly from the rest.
Outfitted with an ultra-comfortable elongated bowl, this toilet also has comfortable height proportions, so it's a good choice if you like all your trips to the toilet to be enjoyable.
Now, although this toilet is one of the bigger models on our list, it also comes with fewer parts and a less complicated design. This, together with its 360-degree Aqua Piston flush engine and 1.28 gpf water consumption, proves the toilet's superior design and capabilities.
Pros
Comfort height is the ideal choice for both adults and the elderly
Powerful flushing, thanks to Kohler's 360-degree AquaPiston engine
Elongated bowl creates a comfortable seat for your backside
Makes relatively less noise while flushing
Cons
Does not come with a seat
6.   Toto Washlet G400 – Best Fancy Toilet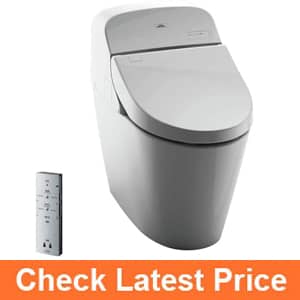 Here is a highly rated, high-tech offering from Toto that proves the bidet to be one of the best toilet types. However, this is one of the most expensive models on our list, so if you're on a budget, you might want to skip this one.
The Washlet, as it's called, is a bidet seat toilet. Yep, this means you no longer have to do your cleaning on your own! With both rear and front cleansing implements, the bidet system has five different pressure and temperature settings to suit your particular needs and comfort preferences. And once that's done, you can dry yourself using warm air!
Keeping this thing clean is also a walk in the park, not just because of Toto's 3D Tornado Flush technology. Glazed with Cefiontect and a unique PreMist function, the bowl of this toilet prevents yuckiness from sticking to it.
What's more, this thing even comes with its own air deodorizer! So if you're concerned about embarrassing toilet smelliness, the Washlet is your new friend.
Pros
5 different bidet cleansing temperatures and speed settings for your comfort
Premist and CeFiONtect glaze work together to keep the bowl clean
Dual flush system allows you to conserve water
Heated seat closes and opens automatically
Cons
Low-profile design might not be well-suited to some users
7.   American Standard Champion 4 – Best Flushing Toilet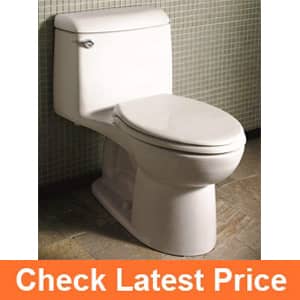 Do you love eating in large quantities? Have you had to reach for the plunger one too many times after a particularly long and hard pooping session? Well, then, it seems American Standard has a solution for you, and it comes in the form of the White Champion 4.
Equipped with a powerful flushing mechanism, this one-piece toilet uses a 4-inch accelerator flush valve, while most toilets use 2-inch valves. So if you're prone to producing hefty doos or if you have a large household, you'll appreciate what this toilet can do.
And to make sure that your experience is comfortable, American Standard has equipped this thing with an elongated seat.
Although this toilet comes with an Everclean glaze that's meant for easier cleaning, we wouldn't place too many of our bets on it. However, it does keep odor-causing bacteria at bay, which is certainly impressive.
I recommend you to check my advanced guide to find the best flushing toilet: Click Here
Pros
Highly efficient water usage with a 1.6gpf system
Elongated bowl shape makes for a comfortable toilet experience
Available in attractive shades of linen, bone, and white
Comes with a slow-close toilet seat for noiseless closing
Cons
Everclean glazing doesn't work very well
8.   American Standard H2Option – Best American Standard Toilet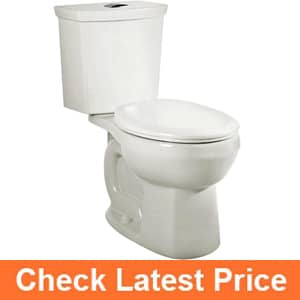 Keeping with the theme of great American Standard toilets, we couldn't possibly leave out the H2Option. This dual-flush two-piece toilet comes with a straightforward yet highly efficient design, and it's available at a very reasonable price point that we love.
What makes this toilet stand out to us is its low water consumption, which clocks in at 1.28 gpf for a full flush and 0.92 gpf for a half flush. Together with American Standard's Siphon jet bowl technology, that makes for a pretty impressive performance.
Available in both round- and elongated-bowl variations, this toilet offers a surprising amount of comfort. Plus, thanks to the trap way being fully glazed, you won't have to worry about annoying clogs.
Pros
Has one of the lowest water consumption rates
Reasonably priced despite being highly efficient
Dual flush option lets you choose how much water to use
Available with both elongated and round bowls
Top-mounted push button is chrome-plated for durability
Cons
Some users say that the toilet does not clean easily
How Do You Choose The Best Toilet?
The best rated toilets all have some important features in common, which we've covered in detail below. Remember to keep these factors in mind before making your purchase!
1. Water Closet Types
Your toilet (or water closet, if you want to be fancy about it) can be one of two types: a one-piece or a two-piece. But before we go into what that means, it's helpful to understand what makes up a toilet.
First, there's the bowl—where your poop and pee go. Then, there's the column the bowl rests on, called the pedestal. And on top is the tank, where the flushing water is stored. Now let's look into the two different types.
This type of toilet is such that all of the components are fused together so that it all makes up one unit. You'll have to pay a higher amount if you go for a one-piece toilet, as they have a more sophisticated construction.
But the good news is that one-piece toilets are much easier to clean, thanks to the fact that there is no joint design to take care of. They're also easier to install since there are fewer components to put together.
In the case of a two-piece toilet, the bowl and the tank are separate but joined with attachments. They will cost you less but be a little more time-consuming to clean and install.
Still confused between one-piece and two-piece toilets, check the detailed comparison HERE
●      Bonus: Wall-Mounted
It turns out you have other options too! If a sleek, contemporary look for your bathroom is what you crave, then a wall-mounted toilet might be the right fit for you. However, be warned that such toilets have a more complex installation process and require extra plumbing and bracing.
2. Bowl Types
As you may have noticed already from the numerous bathrooms you have no doubt frequented throughout your life, not all toilet bowls are shaped similarly. Some are round, some are "elongated," while some even come in a square shape! Let's have a closer look at each in turn.
Ideal for small bathrooms, toilets with round bowls can go up to 28" when measured from the wall against which it is resting. They're the most commonly seen type, and the cheaper option too.
If comfort is a priority for you, you should go for an elongated bowl, which will measure up to 31" from the wall. However, they take up quite a bit of space in any bathroom.
For those of you with an eye for minimalistic, futuristic aesthetics, a toilet with a square bowl can be preferable. However, they're not as comfortable.
3. Toilet Height
The height of your toilet is the ultimate consideration in terms of comfort and accessibility. On most toilets, the rim of the bowl will be 14-15 inches away from the ground, but you will also find somewhere they go up to 17-19 inches.
Most adults tend to find the comfortable height toilets, but if you have a lot of short people or kids in your household, the former height is better.
If you're going to be installing the toilet in a commercial or public building, then you have to ensure it meets the Americans with Disabilities Act (ADA) Accessibility Guidelines. This means the rim must be at least 16.5 inches of the ground to allow disabled people to use it comfortably.
You may Check the ADA Bathroom Requirements Here!
4. Toilet Measurement
The size of your toilet is an all-important consideration. Start by taking the "rough-in" measurement, which is the distance from the floor drain to the wall. This distance is typically between 10 to 14 inches. Choose your toilet according to this measurement for easier plumbing.
5. Flushing Type
One of the most important determiners of a toilet's worthiness is its flushing abilities. Most toilets on the market come with a gravity-flush system and dual flush toilets which forces the waste in the bowl to exit in a sucking motion. This is the most popular option as it's easy to maintain and produces little noise.
But more sophisticated flushing styles can also be found, such as pressure-assisted flushing technology of pressure-assisted toilets, which forces water into the bowl from the toilet tank using pressurized air. You can also look into toilets that allow you to flush fully or partially if saving water is a concern for you.
If you're going with a more advanced flushing system, though, be prepared to pay more.
6. Toilet Seat
Many first-time buyers of toilets are surprised to find out that not all commodes come with the seat built-in. That might seem like an inconvenience, but it certainly increases your options as you'll be able to choose from different seat types.
First, consider the construction material. Toilet seats can be made from plastic, wood, enamel, or porcelain; the right material will depend on your budget, cleaning needs, and aesthetic preferences.
Next, look into the seat's functionality. You can choose a soft-close model if you hate slamming noises, a quick-removal model if you like shorter cleaning sessions or even one with in-built lighting!
7. Water-Saving Technology
While existing laws already preclude the possibility of a toilet using more than 1.6 gallons of water, you can still opt for a model that uses less than up to 1.2 gallons of water per flush. Such a model can be identified by a "WaterSense" certification from the Environmental Protection Agency.
8. Toilet Brands
Here are some of the best brands to turn to for a good toilet.
With a wide and varied range of efficient, smoothly functioning toilets, Kohler has something to offer everyone. Particularly if you have an eye for modern, minimalistic aesthetics, this brand will appeal to you.
Some of the most sought-after toilets on the market are manufactured by Delta. You can take your pick from conventionally designed models to more advanced ones.
You've probably seen toilets from this brand in every kind of setting. Toilets made by American Standard are lauded for their efficient water usage.
Easily recognizable for their sleek one-piece toilets, Toto has a wide selection of toilets that have remained a popular choice among many consumers.
If you're excited by the prospect of high-tech toilets, then you can turn to Duravit. They also make durable models, but these might be more difficult to maintain.
9. Easy Installation
It's better if you choose toilet that are easy to install. Many toilets come with easy to follow instructions. However, some toilets may require a professional installer. You need to make sure you are prepared to install the toilet yourself or hire a professional.
10. Special Features
As we've already seen in our discussion of different toilet seats, there are models that come with cool additional features such as night lights. You can also look into in-built bidets, which substitute nicely for toilet paper and let you experience premium butt cleansing!
You might also be interested in touchless flushing, which lets you clean the bowl with just a wave of your hand. Or composting toilet.
Choose The Best One
Now, it's time for you to choose your new toilet from your top pick.
With an impressively low water consumption level of 1.28 gpf, an efficient and powerful flushing power toilet, and sleek contemporary aesthetics, the Ultramax II from Toto is truly an impressive toilet and certainly one of the best toilets to buy.
The unique dual nozzle mechanism and centrifugal force washing action combine to create a reliable flush to treat both solid and liquid waste without upping your water bills. At the same time, the lubricating Cefiontect glaze prevents solid waste as well as liquid waste from accumulating unpleasantly on the bowl.
Plus, thanks to its one-piece design, keeping the toilet's external parts clean is also super easy.
And you'll no doubt be thanking the elongated bowl for a comfortable sitting experience. To top it all off, it's also the most reasonably priced high-end toilet we've come across!