More often than not, if we find a toilet that's efficient with its flushing, it is not quiet at all. But with Niagara Stealth Toilet, you get the best of two worlds, a toilet that works well AND is quiet in its operation.
All the best Niagara toilets on the market are ordinary in their appearance but have extraordinary features that you can't find in other toilets. However, just like any product, they also have drawbacks that might be a dealbreaker.
So, let's go on with it to find out if these toilets are as remarkable as the manufacturers claim them to be.
Niagara Toilet History
Based in Texas, Niagara Conservation has a reputation as being one of the leading plumbing product manufacturers, and Niagara toilet is one of their best-selling products. 
The stealth toilet first came to market in 2009 and immediately gained huge popularity due to its many useful features.
Aside from its stealth technology, the Niagara toilet is also the only toilet that features a single flush with 0.8 gallons per flush (GPF). Besides Stealth toilet, the company has other types as well, such as the Flapper-less toilet.
Niagara Toilet Special Features
Let's look at two of their most popular toilets and their special features.
1. Niagara Stealth Toilet
Incorporates stealth technology for less noise
Saves water
Comes with both single and dual flush
2. Niagara Flapper-less Toilet
Has no flapper
Aggressive flush with quick water drops
Doesn't leak
Niagara Stealth 0.8 GFP Toilet with Elongated Bowl and Tank Combo – Review
If you are to buy this specific toilet, the following information and in-depth review will give you a clear idea of how this product is going to serve you and what compromises you have to make.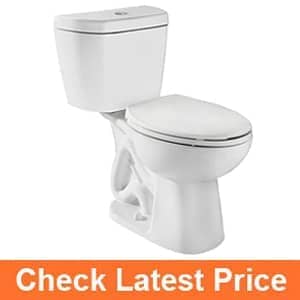 Dual Flush Technology
One of the special features of this NiagaraToilet is its dual flush technology which divides the flush system into two types-  a full flush and a half flush.
There are also two chambers to incorporate these two types of flushing: the primary chamber and the secondary chamber. When half flush is used, only the water in the primary chamber is utilized, which is about 0.5 gallons.
And it mostly handles liquid waste. As for the full flush, both the primary and secondary chambers are used consecutively. So, if there is any solid waste, it can take care of that too.
2 Inches Trap-Way
The 2 inches trap way on this toilet is spacious enough to accommodate a lot of water for the flush. They are also designed to be streamlined in such a random direction change can't reduce the power of the flow.
Not only that but the trap way is also made with glazed ceramic to reduce friction and resistance to the water flow as much as possible. Using ceramic also means the water can't be absorbed into it, and you can utilize 100% of the water in the tank.
Leak-Proof No Flapper Design
Niagara toilets don't have the standard flapper seal, instead they have a no-flapper stealth seal design. A hard plastic plate supports and presses down on the seal so the pressure is equal across the whole seal area.
Unlike flapper seals, where leakage is a common issue due to the lack of support, it effectively prevents any water leakage through the seal.
Siphon Jet and Rim Holes
Just like everything else, the siphon jet and rim holes on this toilet are also strategically placed for maximum outcome.
The toilet has a smaller siphon jet hole for better aim. Plus, the placement of the hole is calculated in such a way that it can remove water from the bowl in the fastest way. This feature proves to accommodate solid waste with high efficiency.
Then we have the smaller rim holes, which are placed around the rim for direct water flow across the surface of the bowl. Water from these holes cleans away any reminiscence waste inside the bowl.
Benefits of Niagara Toilet
Niagara toilets have multiple benefits that give them the upper hand over other toilet brands. Let's know a bit about them in small detail.
1. One-Flush Efficiency
The efficiency of the gravity flush of this toilet is simply remarkable. And the toilet needed only one flush to clean out the entire bowl without leaving any waste behind. Plus, it uses only 0.8 GPF (gallon per flush) of water.
In my opinion, even with the pressure assist flush, this is one of the very few toilets that can wash so thoroughly using so little water.
2. Little to No Sound
Niagara has mastered the simple, quiet operation of toilets with this product. The stealth technology used in designing this toilet helps them to operate almost silently.
For people like me who tend to go to the toilet late at night, I am happy to find a toilet that doesn't wake up the whole household with the loud flushing sound in the water tank.
3. Saves Water Bills
Niagara stealth toilet uses significantly less amount of water for flushing than any standard toilet. As a conscious citizen, I am always intrigued by toilets that save water by using less GPF.
Testing out this factor was really fun because even though most toilet brands on the market that claim superior effectiveness consume about 1.28 GPF, Niagara toilets can provide the same level of efficiency with just 0.8 GPF.
That, in plain sight, is a win for me based on the money I am saving on water bills.
4. Ease of Installation
A very common issue with most toilets that incorporate various modern technologies is that they are difficult to install by yourself and take quite a long time. But not with this Niagara toilet.
I found the instruction manual very well-detailed. Plus, the parts were simple enough to put together without any added difficulty.
With the very basic DIY knowledge, the instruction manual, and my installation guide, setting them up was not that tough experience. Not to mention the fact that I also saved some bucks by doing it myself rather than getting any professional.
Drawbacks of Niagara Toilet
Despite the many benefits, Niagara toilets are not without drawbacks. Let's see what they are.
1. Issue With Height
Even though the height was perfect for me, I felt like it would be slightly uncomfortable for people on the shorter side. For the same reason, it is not the best toilet to be set up in children's bathrooms.
2. Pretty Basic Design
The design is pretty basic and minimal if you want something a little better looking. Also, they don't have any color variations for people that don't prefer white.
3. Inability to Clean Properly with Single Flush
More often than never, the single flush can't clean the entire bowl properly which requires a second flush. This ends up wasting more water than saving.
Frequently Asked Questions
1. What is stealth technology made of?
The stealth technology features a noise-canceling tank which works by significantly reducing the noise of the fill valve. And the trick is to design the system in such a way that the valve opening is submerged in the water at all times, preventing any loud sound while operating.
2. Who makes Niagara toilets?
The manufacturing company, Niagara Conservation, makes the Niagara toilets. They are also known for their different plumbing products and light fixtures.
Conclusion
Overall, Niagara Stealth seemed like a pretty neat toilet, in my opinion. If we can overlook the slight setback, this is definitely a great buy within budget. The rest is your decision, and hopefully, this guide will help you with that.