All our taller readers know how hard it is to use a standard toilet simply because of their height. Elderly people also face difficulties while sitting on or getting up from a standard toilet. For all these problems, there is one solution– a comfortable height toilet.
A comfort height toilet is more elevated than regular toilets and thus causes no discomfort or trouble to taller and elderly people. Continue reading our article to explore some reviews and select the best comfort height toilet for you or your loved ones.
Our Top 5 Picks of The Best Comfort Height Toilet
Below, we have reviewed 5 of the top comfort height toilets for this year that you can rely on to make your bathroom experiences smoother.
Image
Product
Features
Price

TOP PICK

1. TOTO CST744SL#01 Drake 2-Piece Ada with Elongated Bowl

G-Max flushing system
Low water consumption
Universal Height

Check On Amazon
2. KOHLER K-6669-96 Memoirs Stately Comfort Height 2-Piece Elongated

Water-efficient and Eco-friendly
Easier to clean
Comfort Height

Check On Amazon
3. Kohler K-3979-0 Highline Comfort Height 1.6 GPF

Quick and quiet flushing
Perfect toilet height
Two-piece toilet

Check On Amazon
4. American Standard 2988101.020 Cadet 3

Easy install
Save 20% water
Everclean surface

Check On Amazon
5. 20-inch Extra Tall Toilet with Dual flush, Metal handle, Slow-close

Good for elder and disabled person
Multiple flush for water saving
Extra tall toilet bowl

Check On Amazon
1. TOTO CST744SL#01 Drake 2-Piece Ada with Elongated Bowl (Best Overall)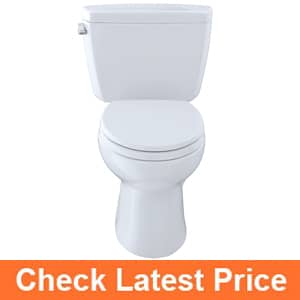 The Toto comfort toilet with an elongated bowl is a very top-rated toilet that displays ultimate toughness. Suitable for both residential and commercial use, it deploys some smart features.
Meet the toilet that proudly complies with the Americans with Disabilities Accessibility act. Ready to use the moment it arrives; this Toto comfort toilet is suitable for anyone and needs no modification.
Its sleek design makes it a perfect toilet for your house and makes sure your bathroom looks elegant. Although it is available in five different shades, we love the shade cotton white as it will surely complement the style of any bathroom.
For those who prefer having a bidet in their bathrooms, this toilet can be upgraded to have an electronic bidet seat. Equipped with the smart GMAX flush technology, this toilet can flush quietly and quickly.
Only the best materials were used to make this toilet, which means less maintenance cost and longer use for you. It has been designed in a sleek way to make sure that cleaning is easier and less time-consuming.
Pros
Good for both home and office use
Makes bathrooms look sleek and stylish
Available in five different shades to help you choose easily
Can be updated to include an electronic bidet
Flushing is fast and quiet
Concealed design helps clean it easily
Cons
Flush tank is designed poorly
2. KOHLER K-6669-96 Memoirs Stately Comfort Height 2-Piece Elongated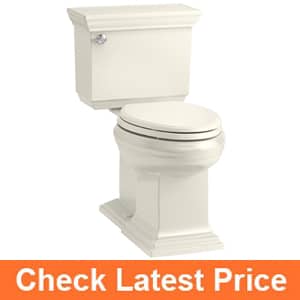 It is no secret that Kohler makes some of the most durable plumbing products and can surely be called one of the top toilet brands. We suggest you take a look at this comfort toilet from them that will make sure you only have positive bathroom experiences.
The toilet that has the same height as a chair is here to make sitting down and getting up from the toilet easier for anyone who needs it. Its elongated bowl makes bathroom time easier and makes the design of the toilet stand out. For your convenience, it also comes with a left-hand chrome tip lever.
Also, the thoughtful design of this toilet will make your cleaning attempts much less troublesome. Smart design has minimized the corners and nooks on the bowl of this Kohl toilet. This means you have to clean less frequently and will have to spend much less time cleaning every time.
Do not worry about the toilet being properly flushed anymore. This comfort height toilet by Kohler has a canister flush valve that can get rid of the mess by using less water. Its environment-friendly features along with smart design surely make it the best chair height toilet.
Pros
Elongated bowl aids in comfortable use
Fewer corners and nooks make cleaning easier
Powerful flush that uses less water
Eco-friendly toilet because of water-efficient nature
Extremely good value for money
Cons
This toilet does not come with seats
3. Kohler K-3979-0 Highline Comfort Height 1.6 GPF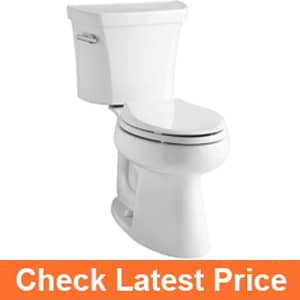 We bring you the review of another comfort height toilet by Kohler. This two-piece toilet is a top choice for many users thanks to its features and lower price.
If you want quality, durability, and low cost, surely this Kohler toilet is the one you are looking for. This particular model costs much less than most other toilets by Kohler and is thus a top choice for many users. Your elderly family members will surely love it as sitting down on it and then standing up are not difficult at all.
For easier use and better accessibility, this Kohler toilet is equipped with an elongated bowl. Besides being so functional, it also makes your bathroom look extremely elegant. The exterior can be simply cleaned by using a dampened cloth.
Say hello to an efficient flushing system that is quick and never fails. Thanks to the Aquapiston flushing technology, every single time you flush this toilet, it will get rid of the mess by using as little water as possible. The flush is also very quiet, so it will cause no disturbance.
Pros
The exterior is easy to clean
Quick and quiet flushing that uses a small amount of water
Toilet height is perfect for most users
The bowl is elongated to ensure more comfortable use
Cons
Does not come with a toilet seat
4. American Standard 2988101.020 Cadet 3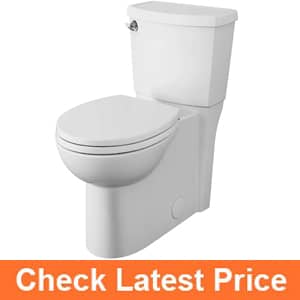 Follow the American standards at home with the help of this American Standard comfort height toilet that will be perfect for you and your loved ones. Its unbeatable convenience will have you using it for years to come.
The toilet from the future is here to amp up your bathroom. Convenient design and hassle-free use make it a top pick among those who want the benefits of a comfort height toilet. This toilet comes as a whole set of a bowl, flush tank, and toilet seat. Almost anyone can install as it requires the use of no tool to be installed.
Now the bowl in this American Standard toilet is roomy and thus more comfortable to use. If you are looking for tall toilets for the elderly, it will be a perfect choice thanks to its easy-to-access feature.
Environment-friendly in nature, the Cadet 3 toilet from American Standard uses 20% less water every time it flushes.
Cleaning toilets has never been this easier. Concealed trap design of the bowl gets rid of corners and holes so that you can clean the toilet quickly and less frequently. This Kohler toilet comes with the innovative EverClean surface that prevents the growth of many types of germs.
Pros
Comes as a set of bowl, tank, and seat
No tools are needed to install it
Uses 20% less water in every flush
Cleaning the inside is easier as there are no nooks and crannies
Everclean surface prevents germ growth
Cons
Irresponsive customer service
5. 20-inch Extra Tall Toilet with Dual flush, Metal handle, Slow-close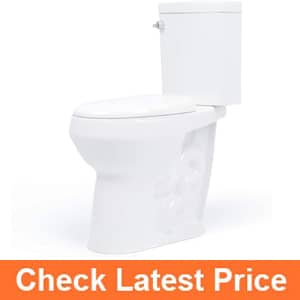 The brand brings you a comfortable toilet that has the most convenient height for use ever. This extra high toilet is especially suitable for old and disabled individuals.
Equipped with an extra-tall toilet bowl, this toilet is a champion for safety in the bathroom. As it can ease the process of sitting down and standing up, it is surely the best toilet for the elderly. This comfort height toilet is also great for sick family members and elders as it can prevent falling and slipping.
Cut down on cost with this toilet that may qualify for a tax deduction if you are buying this for medical purposes. Besides easy accessibility, it also boasts a smart design. The flush handle is not blocked by the seat cover, so it can be accessed while sitting.
For greater water-saving purposes, this Convenient Height toilet has two different types of flush. Thanks to the help of the full and economy flush systems, you can use less water when you need to and save a ton of water. Both the flushing systems ensure quick and efficient flushing.
Pros
Better for elder and disabled users
Reduces chances of falling with extra tall height
Tax deduction may be applicable
Two different types of flush for water-saving purposes
Flush handle is not blocked by the seat
Cons
Installation is time-consuming and requires expert plumbers
What to Look Before Buying Comfort Height Toilet?
Before you buy the toilet that will be used by you and your family members for years to come, you should know what factors need to be considered. Let us take a look at such factors that will help you choose the best comfort height elongated toilet for you.
First and foremost, check the height of the toilet and make sure it is appropriate for the intended user or users. Taller people will need taller toilets by default.
If you are shopping for your elderly or sick family member, you also need to check the height and make sure you choose something that has the perfect height and is not too tall.
We recommend you choose something that can be installed as easily as possible. Installing a toilet is always troublesome, and easy-to-install toilets will lead to significantly fewer plumber fees for you. However, our easy toilet installation guide will make your experience simple and smooth.
This may not seem that important, but we assure you that it is. Make sure the flush is quick, quiet, and efficient. Eco-friendly flushes that use less water than normal are in right now, and we love them too.
Something a lot of users forget to check is the placement of the flush lever. Make sure the flush lever is not blocked by the seat cover when the user is sitting down. If the lever is unblocked, the user can access it easily while sitting on the toilet.
Check our in depth article on toilet flushing systems, it's surely helps you to choose the right toilet of your needs
Looking after our mother earth is surely important. That is why we recommend you look for eco-friendly flushing systems that use less water. A dual-flush toilet has a dual-flush system that can be used in two modes so that you can use less or more water depending on your need.
Elongated toilets that have an elongated toilet bowl and are roomier are always more recommended for adults. It ensures comfort while sitting and never makes the hips tired.
Water consumption and eco-friendliness go hand in hand. It is always wiser to choose something that uses less like water. Like 1.28 gallons per flush. Mainly for environmental purposes but gets rid of all the mess successfully.
Warranty is an important thing that will cut down on your cost and trouble should you face any problems in the future. Warranty depends on the manufacturer brand of the toilet and comes in many cost and duration options.
Last but not least, price is an important factor to consider. Toilets are everyday items that are greatly necessary for the whole house. We recommend you choose something from a reputed brand that is known to perform well. Even if you have to spend a little more, it will serve you longer and better.
What Is a Comfort Height Toilet?
A comfort height toilet is a toilet that is taller than usual for extra comfort and ease of use. This toilet is preferred by people who are taller. It is a godsend for the sick, elderly, and disabled as its extra height makes accessing it easy and pain-free.
Benefits of a Comfort Height Toilet
Comfort height toilets come with certain benefits that make them so popular among some users. Let us take a look at some such benefits.
These toilets are called comfort height toilets because of the comfort they provide. Sitting down and getting up again is not difficult at all with this toilet. For taller people, this toilet is a blessing as it can make bathroom time more comfortable with its extra height.
Easy Access for The Users
Comfort height toilets generally have the height of a chair. This means they can be accessed very easily by the elderly and the sick. Sitting on this toilet strains no muscles and causes no ache at all. For anyone with special needs or any kind of physical need, this toilet can provide much easier access than a standard toilet.
Toilets tend to cost a good amount of money to purchase and get installed. Those who are looking to buy a comfortable height toilet will surely love the fact that these toilets cost much less than regular toilets.
Depending on where you live, some toilets are also tax-deductible if they are being purchased for medical purposes. It's applicable for both one-piece toilet designs and two-piece toilet designs. .
Restrooms in public areas should have washrooms of all kinds to make sure there is an option for everyone. Be it modern toilets or wall-mounted toilets public restrooms should have accessible toilets for all.
For the taller, elderly, and anyone with any special need, a comfortable height toilet in a public area will surely be very helpful. If you are looking for toilet options for a public area, a comfort height toilet is definitely something that should be looked at.
Great for People with Bone or Joint Problems
Bone and joint problems make daily movements and daily life much more difficult than usual. Needless to say, they also make using a standard height toilet very difficult. Sitting down and standing up can cause pressure on your joints, hips, and knees that will pain you for some time.
These toilets for elderly have extra height to make sure that the users' bones and joints face no pressure while they are accessing or using the toilet.
Frequently Asked Questions
Q: How tall is a comfort height toilet?
Comfort height toilets tend to have a height of 17 to 20 inches. This means it has a raised toilet seat than regular toilets. Regular toilets generally have a height of 15 inches. Also, you can buy toilet seat riser separately. We recommend you to read our article on best raised toilet seats for elderly.
Q: Comfort Height vs Chair Height vs Standard Height: which one to pick?
It's depend on your purpose of use of the toilet. If you still struggling to choose between Comfort Height vs Chair Height vs Standard Height Toilet; then simply follow these guide which will certainly help you to take the right decision.
Q: What is the ADA Guidelines for Comfort Height Toilets?
The ADA or American with Disabilities Act has some rules regarding comfort height toilets. To be compliant with ADA guidelines, a comfort height toilet must have 17"-19"of height from the washroom floor to the bowl rim. Additionally, the rough-in from the wall should be about 12 inches.
Also, our detailed guide on ADA bathroom requirements will help you to know more about disabilities Act.
Q: How to Install a Comfort Height Toilet?
How you can install a comfort height toilet will largely depend on the toilet model and brand. Generally, you need to follow some guidelines, but they are fairly easy to install. Some of them can even be installed without taking help from a plumber.
Q: How can I install a bidet for my comfort height toilet?
Bidets are cleanup tools that can be helpful for the elderly. Contact your plumber for bidet installation as many factors such as your toilet, your house, the available space in your bathroom, etc., come into play here.
Final Thoughts: The Best Comfort Height Toilet Is?
Our top pick as the best comfort height toilet for 2023 is the Toto CST744SL#01 Drake 2-Piece toilet. With its fairly low cost and state of the art design, it has won the hearts of many customers. Among all the best toilet types, this one stands out due to its ability to upgrade to have an electronic bidet seat.