Toilets aren't supposed to only dispose of our wastes. They should also provide us comfort while we sit on the seat. And, don't forget that a fast and efficient flush should also be there.
If you're in a rush and don't have time to read details, Gerber GWS21518 Viper Two-Piece Elongated Bowl Toilet is the best Gerber Viper toilet. It has the perfect height, a comfortable seat, a perfect elongated bowl instead of round bowls, and a quick flush.
Did it spark your curiosity? If so, then join me as I break down all the goods and bad in my Gerber Viper toilet review.
Our Top 2 Picks of the Gerber Viper Toilet
From Gerber ultra flush to solid durable brass arm and even to using top-quality vitreous china, these Gerber viper toilets have it all. I'll break down the details to the point to make things easy. Without further ado, let's start.
Image
Product
Features
Price

Best Overall

3″ flush valve for faster water flow
16.5″ ErgoHeight ADA Elongated Bowl
Large dual fed siphon jets

Check on Amazon

2-inch glazed trapway for reducing clogs
3-inch flush valve for fast flushing
Perfect bowl height

Check on Amazon
1. Gerber GWS21518 Viper Two-Piece Elongated Toilet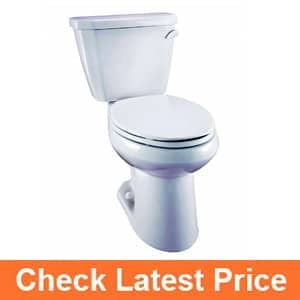 Are you tired of your toilet clogging up randomly, and sitting on an uncomfortable seat? If you can relate to these problems, I got just the right thing for you.
The Gerber GWS21518has a 16.5-inch Ergoheight elongated ADA toilet seat. This seat is loved by many because of its increased surface area when sitting. The comfort is second to none.
Unlike other cheap brands, Gerber features a large 2-inch glazed trapway. Due to its large hole size, you will never experience any clogging. A clog-free toilet equals happy life.
The toilet lever's color matches the color of the entire toilet, which makes it look elegant. The lever is made of heavy-duty metal with a solid brass arm, so don't worry about durability.
The flush makes the Gerber GWS21518 toilet the best Gerber toilet. It has a 3-inch massive flush valve with dual-fed siphon jets for lighting fast flush speed. Creating efficient toilets and well as water-saving toilets.
Highlighted Features
16.5 inch elongated toilet seat for comfort
2-inch large glazed trapway for the clog-free experience
Color-matched metal toilet lever with brass arm
Dual fed jet siphon with 3-inch flush valve for a fast flush
2. Gerber Viper VP-21-528 Elongated Siphon Jet Toilet Bowl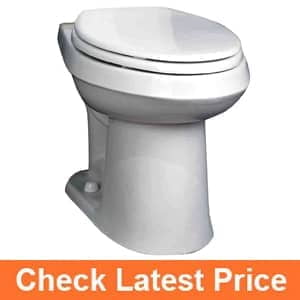 The Gerber Viper VP-21-528 is similar to the previous Gerber Viper toilet I reviewed. So, is it better? Does it have any extra features? Let's find out.
The Viper VP-21-528 is also known as Gerber comfort height. As the name says, the height of the bowl is suitable for all ages. Because of the height, your sitting posture will be good, which means zero back pain or fatigue.
Comfort does not end there. The elongated seat design will give your legs breathing room. The increased surface area ensures the utmost comfort for your feet.
Just a problem. This Gerber viper comfort height toilet does not include any tank. You'll have to buy that separately. However, this won't be a problem if you already have a tank.
Because its 47-pound weight is both hefty and durable, there is no wobbliness or rocking while sitting. Furthermore, it has the same dual-fed siphon system as before. With the 3-inch flush valve, your flushing experience will be super fast.
Highlighted Features
Perfect bowl height for maintaining a good posture
3-inch flush valve and dual-fed siphon for fast flushing
Elongated toilet seat for maximum legroom
2-inch glazed trapway for reducing clogs
What to Look Before Choosing Gerber Viper Toilet?
Here are the factors you need to consider if you want to get the best Gerber viper elongated comfort height toilet.
Seat Style
If you want your viper toilet to look very attractive and provide comfort simultaneously, you should get elongated toilet seats. These seats are a bit narrow, which gives your legs more room to breathe.
But, of course, you can get round toilet seats as well. It just comes down to your height and preference.
Trapway
A trapway is a hole that starts from the bowl and ends at the drainpipe. In general, the bigger this hole is, the better drainage power your toilet will have.
If you want a clog-free toilet, you can go for 2-inch trap ways or even larger if you have the budget.
You may find this article helpful: What Size Pipe is Best For Your Toilet Drain?
Flush Valve
Just like the trapway, the bigger your flush valve is, the better flushing capability your toilet will have. Viper toilets usually come with a 3-inch flush valve which is bigger than most toilets you'll find in the market.
You may also read the article on: Different Types of Toilet Flushing Systems in The Market
Why You Buy Gerber Viper Toilet?
If you ask me why you should buy Gerber viper toilets, my answer will be very simple. It's because they are one of the best toilet manufacturers right now.
All of their toilets have elongated seats that provide the utmost comfort. You can easily maintain a good posture when using viper toilets. They also feature a dual jet siphon system with a 3-inch flush valve for a lightning-quick flush system.
Lastly, viper toilets generally stay clog-free for most of their lifespan. With a 2 inch trapway, it's impossible for the toilet to get clogged. All of these things make Gerber viper toilets user-friendly and feature-packed.
Frequently Asked Questions
1. Is the Gerber Viper a good toilet?
Without a doubt, Gerber viper toilets are very good. They provide all the necessary features to enjoy your time in the toilet.
2. Do Gerber toilets clog?
Every toilet, no matter how futuristic or good they are, will clog at some point. Gerber viper toilets clog way less than other toilets because of their 2-inch trapway.
3. Where are Gerber toilets made?
All the Gerber viper toilets are proudly made in the US. To be more precise, they are made in North America.
4. Are Gerber toilets good quality?
I have said this countless times, and I'll say it again. Gerber toilets are one of the best toilets in the US.
5. How do you fix a Gerber toilet that keeps running?
To fix a running Gerber viper toilet, you will first check the flush valve and flapper. You have to replace them with a new flush valve and flapper if they are worn out. This should fix your running Gerber toilet.
You can also read the article on: Why Does My Toilet Randomly Run For a Few Seconds?
6. How do You snake a Gerber toilet?
The first thing you'll need to do is insert the snake inside the toilet pipe. After that, you will have to push the coil until you reach the handle. Now just rotate the handle, and voila, you have successfully snaked a Gerber toilet.
Final Words
So that was everything on Gerber viper toilet review. As you've finished reading it, now you can make the right choice without any confusion.
These toilets offer amazing functionality, excellent comfort and will last for a long time. Therefore, you'll never have any complaint, that's guaranteed.