So, you're in the market for a new toilet. From Kohler to Toto, you have a lot of great options to choose from. But have you considered whether you should get the best American Standard toilet instead?
With almost 150 years of experience, American Standard is a brand that holds its own. You won't find luxury features or implements, or the usual bells and whistles that attend fancy Toto toilets, for example, but you'll definitely land yourself a long-lasting toilet without blowing a hole in your wallet.
Our Top 5 Picks of the Best American Standard Toilet
Here are our reviews of the best American Standard toilets currently in the market. We have mentioned both one-piece toilet, two-piece toilet and conventional toilets. We hope you find the right fit for yourself! Simply follow the guide and figure out which American Standard toilet is best suited to your needs.
Image
Product
Features
Price

TOP PICK

1. American Standard H2Option

Noiseless & efficient flushing
EverClean surface
Save 25% of water

Check On Amazon

BUDGET PICK

2. American Standard Fairfield One-Piece Elongated Toilet

Elongated siphon action bowl
Refills quickly
Easy to clean

Check On Amazon
3. American Standard Cadet 3 FloWise 2-Piece

Comfortable seat height
Watersaving technology
ADA compliant

Check On Amazon
4. American Standard Cadet 3 Powerwash Triangle

Best for Small bathroom
Perfect seat height
Strong flush power

Check On Amazon
5. American Standard Boulevard

Compliant with EPA WaterSense
Luxury Performance Toilet
Ultra-low consumption

Check On Amazon
1. American Standard H2Option (Best Overall)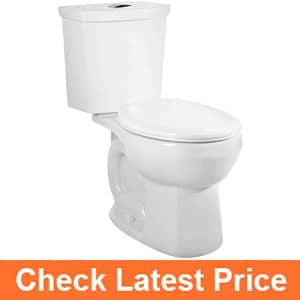 What is the best American Standard toilet? The answer to that question is in our first pick today, one of the brand's most highly rated. If you're looking to save money on a sleek, powerful toilet, this is the one you should look into.
The H2Option comes with a highly efficient dual flush system that uses only 1.6GPF for full flushes and 1.28 gallons per flush for partial ones. This allows for up to 25% savings on water usage and lowers your water bills.
And the comfort height specification of this toilet makes it one of the most popular in terms of ergonomics. It is well suited to households and establishments of all types.
What's more, this toilet is equipped with Siphon Jet technology, which together with the PowerWash rim, allows you to enjoy UHET performance. You won't be disappointed when the time comes for this toilet to be installed, thanks to its speed connect system which allows set-up to be complete at 30% less time.
All in all, this is a great buy, thanks to its top-notch features and reasonable price.
Pros
Swift, noiseless, and efficient flushing capability
PowerWash rim and siphon bowl jet technology allow you to enjoy UHET efficiency
The dual flush option lets you save up to 25% on water usage
Available in three attractive finishes- white, linen, and bone
Cons
The seat has to be purchased separately
2. American Standard Fairfield One-Piece Elongated Toilet (Best Budget)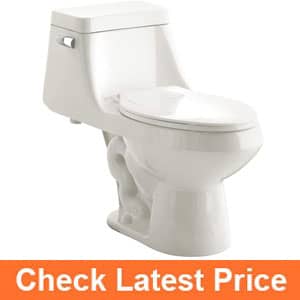 If you're on a budget but aren't willing to compromise on durability, performance, and functionality, then the Fairfield from American Standard will certainly appeal to you. This toilet is virtually silent, refills super quickly, and offers efficient water usage reduction.
Constructed from vitreous china, this is a toilet that's made to last. Its elongated bowl has a siphon action flushing system, coupled with a powerful 3-inch flush valve that gives way to a 1.6GPFflush rate. Save water and keep your bills to a low with the Fairfield.
As a one-piece toilet , the Fairfield is also fairly easier to keep clean than other models. Furthermore, thanks to the elongated seat, you'll enjoy a much more comfortable sitting experience. Plus, not only is installing it quite easy but also wins it in the looks department. A pretty clear budget winner all around.
Pros
Offers a powerful flush thatcombines a dual-action flushing system and a 3-inch flush valve
The beautiful sleek appearance will suit your bathroom's aesthetic easily
Refills quickly and soundlessly
Easy to clean one-piece design
Cons
The durability of the seat is questioned by some users
3. American Standard Cadet 3 FloWise 2-Piece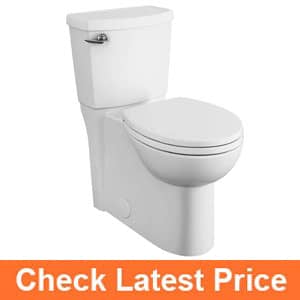 Next on our list is the Cadet 3, and this is arguably one of American Standard's best toilets. This 2-piece toilet, with its powerful single flush system that incorporates a 3-inch flush valve and a concealed trapway, is one of the best flushing American Standard toilets on the market.
Beyond its flushing action, we also love its overall design. Its jetted bowl, with a siphoning action, makes for easy cleaning. This is further enhanced by the toilet's EverClean surface, which naturally inhibits the development of mold and bacteria that causes odors and stains.
Thinking of how to lower your water bills? This toilet can help you do that, thanks to its 1.6GPF flushing system. With extra water filling its tank, the toilet is able to offer additional pressure that makes sure to clean the bowl in one go.
Pros
Integrated EverClean surface keeps the toilet free of stains and odors caused by bacteria
Comfortable seat height allows for a better experience for everyone
The trip lever has chrome plating to enhance durability
Both the seat and cover have a slow-closing capability
Cons
The lack of a dual flush may be considered inefficient by some
4. American Standard Cadet 3 Powerwash Triangle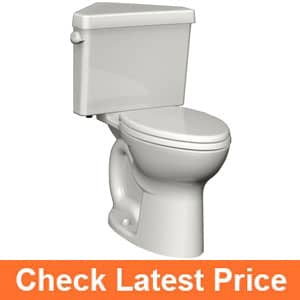 For those of you with narrow or small bathrooms, it's recommended to invest in a toilet model with a triangular tank. This version of American Standard's Cadet 3 offers you exactly that. Its tank fits well into almost any bathroom's corner, making it the ideal choice for those of you struggling with less bathroom space.
This gravity-assisted toilet flushes at 1.6GPF, which makes it one of American Standard's more efficient models. It utilizes a single flush system that cleans out the bowl easily and ensures an easy passage for the bowl's contents.
Something we really love about the Cadet 3 line from American Standard is undoubtedly its versatility. It comes in both one-piece and two-piece models. And it's available with both round front toilet and elongated front bowl toilet and fits the comfortable height standard. Not to mention it has an enviable price and EverClean surface!
Pros
EverClean reduces cleaning and maintenance times significantly by keeping bacteria at bay
Comfortable seat height makes the toilet suitable for various users
Strong flushing power combines with an efficient 1.6GPF flush
The triangular tank is ideal for small bathrooms
Cons
The seat must be bought separately
5. American Standard Boulevard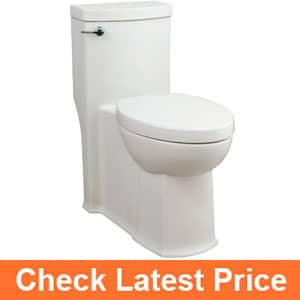 If you have a relatively bigger budget and are looking for a toilet that will offer good performance with sleek looks and durable construction, then look no further than the Boulevard.
With a 2-inch siphon jet trap and a 3-inch flush valve, this toilet has one of the most efficient flushing systems seen in an American Standard toilet. It flushes using only 1.28GPF, which translates to huge savings.
What's more, it's compliant with EPA WaterSense. So, if you're a lover of the environment, you'll certainly appreciate this model.
The Boulevard is also very comfortable, thanks to its elongated design and trap, alongside its oval toilet seat. And the toilet's curving design makes it very easy to keep clean. Its slow-close toilet seat prevents unpleasant slamming.
Although one-piece toilets are preferred due to their space-saving design, the Boulevard is admittedly a bit bigger and heftier. However, when you consider its flushing efficiency and overall design, you might begin to understand why it's considered by many to be the best toilet American Standard has produced.
Pros
Elongated design with oval seat makes for a comfortable user experience
Flushes at only 1.28GPF, making it highly efficient
Flushing system fully compliant with EPA WaterSense, with 20% less water usage
Seat constructed from Duroplast for dependable longevity
Cons
Might be difficult to keep clean
History of American Standard Toilets
The story of American Standard began over 140 years ago when the entrepreneur John. B Pierce decided to purchase a struggling tinware shop and name it Standard Sanitary.
In 1880, the company formulated a pulverized enamel coating, which was molded in hot steel castings to form a smooth, sanitary, and easy-to-clean surface, leading to the creation of the modern bathroom.
Since then, the brand has gone through a number of mergers and transformations in the pursuit of the advancement of sanitation globally. In 1967, the brand became American Standard and is now responsible for raising indoor plumbing standards, enhancing safety, comfort, and beauty.
Frequently Asked Questions
Q: What types of toilets do American Standard offer?
You have a wide variety of American Standard dual flush toilets to choose from. Also you can choose from gravity, pressure-assisted system, high efficiency, back outlet, and flush valve.
Q: What flush systems do American Standard toilets offer?
There's the Cadet 3, Champion 4, Aquaforce, dual flush toilet, and pressure-assisted flush systems associated with American Standard toilets. Each flush system is suited to a different purpose, so make sure to do your research before investing.
Q. Which is better dual flush or single flush?
Dual flush toilets are generally considered better than single flush toilets because they offer water conservation by allowing the user to choose between a half-flush and a full-flush. This helps save water and reduces water bills, making it more environmentally friendly. Additionally, top dual flush toilets are more efficient and may reduce clogging, as they provide two options for flushing based on the amount of waste.
Read the major difference between dual flush and single flush toilet HERE.
Q. Toto Vs. Kohler Vs. American Standard Toilets: Which Brand is Good?
Toto, Kohler, and American Standard are all well-known and reputable brands that produce high-quality toilets. The choice between these brands depends on personal preference and specific needs.
All three brands offer a range of options, so it's recommended to compare the features, design, and price range of the specific models you are interested in before making a decision.
Q: What is the 'Everclean' surface?
EverClean is the name of the American Standard-patented surface with a mirror-like double coating that resists odors and stains by inhibiting mold, bacteria, and mildew.
Q: What does it mean if I hear water running in my toilet?
Depending on the cause, you might have to replace one of the following parts in your toilet- the flapper, flush valve, fill valve, tank, or trip lever. Also, you can check the following guide to solve the running toilet issues by your own.
Here's the link: https://toiletsexpert.com/why-does-my-toilet-randomly-run-for-a-few-seconds/
Q: What is the difference between a 10-inch, 12-inch, and 14-inch toilet rough-in?
The rough-in distance determines how well your toilet will fit your bathroom. Most American Standard toilets are designed to accommodate toilets with a 12″ rough-in, but the 10″ rough-in ones are better suited as low-space solutions.
In the case of a gap between the wall and the toilet tank's back, you might need a 14″ rough-in.
We recommend you to check our comparison guide on 10 inch Vs 12 inch Vs 14 inch Rough-In Toilet, its certainly clear your all confusion about toilet rough-in.
Q. What are the Common Problems with American Standard Toilet?
Some common problems with American Standard toilets include: clogging, leaks, running water, difficulty flushing, and loose parts. We have briefly discuss about these matter with proper troubleshooting, please read these article.
Q: What should I do if my toilet leaks water onto the floor?
First, ensure that not even a single supply tube crack is there and that it's properly tightened. There might be a water control crack instead, in which case you need a replacement part.
Q: Where can I get repair parts for my American Standard toilet?
You can reach American Standard at 1-800-442-1902. You'll have to provide your toilet's model number.
Q: Where can I find the model number of my toilet?
The 4-digit model number can be found on the rear side of the tank, close to the water level marking.
Q: How do 1.6 GPF toilets differ from older model toilets?
Such toilets use less water to flush. As such, not all of the water leaves the tank after flushing, and the bowl's water spot is smaller.
Q: Can I use chlorine pucks or other cleaners in my toilet tank?
It's best not to, in order to protect the toilet's components.
Q: Can I mix and match tanks and bowls?
This is typically not recommended.
Q: The tank is not sitting level and wobbles. Why?
First, remove the tank cover and place a level across the tank's top surface. Try to level it out by descending the tank evenly. Then, using a wrench, turn the nut 1/4 to the left, then 1/4 to the right. Keep doing this until the tank is securely level on the toilet bowl.
The Best American Standard Model?
The sleek and highly efficient H2Option is understandably one of American Standard's most highly rated toilets, and our top pick for the best American Standard toilet. It's good to treat both solid and liquid waste.
Its flushing system uses only 1.6GPF for full flush and 1.28GPF for partial flush and reduces water usage by 25%, boasting high flushing performance thanks to a Siphon Jet bowl technology and Power Wash rim.
The toilet's comfortable height makes it popular with various users, and its overall design makes it super easy to keep clean.