Wall-mounted toilets can be an excellent choice for a household and they come in all different shapes and sizes. So, how do you choose the best wall-mounted toilet?
For the best option, you'll need to determine your preferred size, shape, seat arrangement, and flush system. There is also the matter of installation, as it can be quite costly and complex.
Don't worry! With almost two decades years of experience and knowledge, I can help you with choosing the most suitable wall-mounted toilet. In this article, I'll discuss 4 wall-hung toilets, which I found to be the best options in the market currently.
I judged these products based on their looks, durability, size, efficiency, etc. Among them, Swiss Madison Well Made Forever Ivy was the best option overall because it was compact, lightweight, water-efficient, and stylish.  
Our Top 4 Picks of the Best Wall-Mounted Toilets
Choosing the best wall-hung toilet for your washroom requires focusing on various factors like appearance, size, durability, flush volume, installation, etc. Here are our top 4 wall-mounted toilet choices considering these vital factors.
Image
Product
Features
Price

Best Overall

Exceptionally low maintenance and easy to clean
Saves space with a concealed tank system
Sleek, gorgeous, and very lightweight

Check on Amazon

Best Budget

Comes with self-cleaning water spring technology
The surface is smooth and easy to clean
Water-efficient toilet system

Check on Amazon

Suitable for small and steep space
Comes with concealed tank
Dual flush mode

Check on Amazon

Comes with extended room for added comfort
Large build provides stability and sturdiness
Seamless appearance looks stylish

Check on Amazon
1. Swiss Madison Well Made Forever Ivy SM-WT450 (Best Overall)
This roomy wall-hung toilet is a solid choice if you're looking for a sleek and comfortable toilet for your washroom. Its glossy, seamless, and minimalistic appearance is likely to suit any household.
Weighing 48 lbs. only, this toilet is on the lighter side. It comes with a 0.8/1.28 gallons per flush (GPF) dual flush mode, which works well enough for most scenarios.
The toilet's elongated bowl provides increased room which offers great comfort to its user.You can't compromise bathroom hygiene, and this toilet helps you maintain it easily. Its effortless-to-clean ceramic surface is also durable and long-lasting.
Installing this toilet won't be a hassle, but unfortunately, it'll cost you extra. The concealed tank and wall actuator need to be bought separately from the same brand.
Concealed tank toilets like this one save you a lot of space while looking nice. The maintenance process is also comparatively simpler. Overall, it can be a wonderful addition to your bathroom, which is stylish, compact, and low maintenance.
Pros
Sleek, gorgeous, and very lightweight
Comparativle simple installation
Exceptionally low maintenance and easy to clean
Dual flush mode with water-efficient 1.28 GPF max setting
Saves space with a concealed tank system
Cons
Concealed tank and wall actuator needs to be bought separately
Installation can be pricey
2. KOHLER K-6299-0 Veil Wall-Hung Elongated Toilet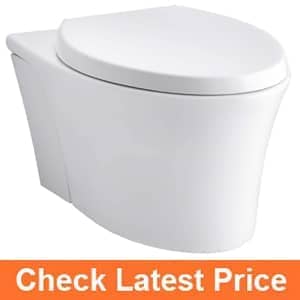 If your bathroom has space issues, then this significantly compact wall-hung toilet might be exactly what you're looking for. Its one-piece build and concealed tank system make it exceptionally suitable for smaller spaces.  
Although this toilet is built to save space, it has plenty of room because of its smart expanded bowl and smaller base design. All its mounting hardware will stay concealed behind the toilet, which makes it look very stylish and clutter-free.
The toilet weighs 53.1 lbs. and has a 21-inch long bowl. It has a dual flash mode of 0.8/1.6 GPF, which lets you control how much water you want to spend.
Another strong feature of this toilet is its durable and long-lasting build. The frames and brackets installed behind the wall are made of quality steel. These robust support structures give the toilet exceptional weight tolerance.
You can set the bowl anywhere between 15 to 28 inches in height, according to your need. In short, if you're looking to save space with your toilet, definitely consider this wall-mounted toilet.
Pros
Suitable for small and steep space
Comes with concealed tank
Dual flush mode
Durable build because of the steel frame and bracket
Cons
1.6 GPF flash mode is comparatively less water efficient.
Installation needs professional care
3. Toto CT418FG Aquia Cotton Elongated Wall-Hung Toilet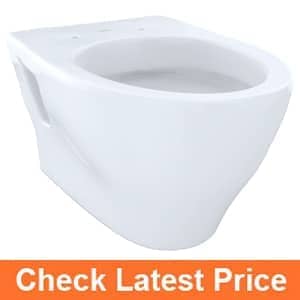 This wall-mounted toilet is definitely worthy of your consideration if space isn't an issue for you. It is a bit larger in size and comes with an elongated bowl.
The extended seat and body size provide extra room while using, and increased room enables more comfort. Plus, the toilet is also a bit on the heavier side, with a good weight of 66.5 lbs.
Although the toiled has a seamless, one-piece build, it doesn't come with a concealed tank. The seamless appearance makes it look quite stylish. Its smooth body surface is easier to clean, which reduces maintenance hassle.
The toilet seat is not of up to the mark quality considering the price. What's more problematic than that is the installation. The installation process is quite challenging, so be prepared to pay extra for professional installation if you go for this toilet.
Unfortunately, it comes with a single flush mode of 1.6 GPF, which will result in more wastage of water.
But, if we put the one-time installation hassle aside, this toilet can be a solid decision for people looking for a comfortable, hygiene-focused, bulky toilet.
Pros
Comes with extended room for added comfort
Large build provides stability and sturdiness
Easy-to-clean surface enables easy maintenance
Seamless appearance looks stylish
Made of durable and long-lasting material
Cons
Installation is time-consuming
Not water efficient
4. American Standard Afwall Universal Wall-Hung Toilet (Best Budget)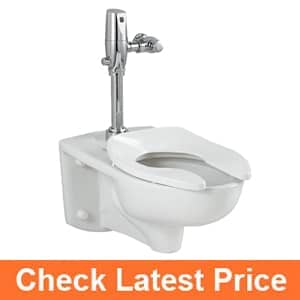 Looking for a cheap, smart, and water-saving toilet for your bathroom? Then you should take a good look at this one. Costing around $500, it has a single flush mode of 1.1 GPF, which is adequate for bulk waste clearing.
The flush system may have a reduced GPF, but it comes with a water spring technology that can effectively self-clean the toilet bowl while dumping bulk waste.
This self-cleaning process works well with the brand's trademark 'Everclean' surface, which is smooth and easy to clean.
Alongside, the system includes a glaze additive that is integrated into the flow pipes in order to safeguard against the growth of mold, mildew, algae, and fungus. This prevents potential damage or discoloring of the pipes over time.
The toilet has a durable and compact build and doesn't come with an extended toilet seat. That's why it offers a little less comfort compared to other choices in this list. But the compact build allows it to fit easily in smaller spaces.
Pros
Water-efficient toilet system
Comes with self-cleaning water spring technology
Compact build makes it good for smaller spaces
Comes with a glaze additive that prevents the growth of mold and mildew
The surface is smooth and easy to clean
Cons
Only has one flush mode
Doesn't come with an extended bowl, so no added comfort
How to Choose the Best Wall-Mounted Toilets?
Let's take a look at how different features can determine which wall-mount toilet would be the best option for your bathroom.
·       Size and Shape
Wall-mounted toilets come in all shapes and sizes, but they're typically more compact than traditional ones. Make sure to measure the available space in your bathroom before selecting a toilet.
If the space is very small, you can go for concealed tank ones which take up a negligible amount of space.
·       Weight Capacity
Wall-mounted toilets need to be sturdy enough to support the weight of the user. Make sure to check the weight capacity of the toilet before purchasing it.
·       Flushing System
While buying a toilet, you should use a flushing system that is powerful enough to clear waste without excessive water. And there are different types of flushing systems available in the market.
Toilets with dual flushing modes are preferable as you can dispose of wastewater with less water and use more water for solid waste.
A parameter you can check to estimate the efficiency of a toilet is gallons per flush, or GPF in short. More GPF indicates that the toilet design requires dumping more water for one round of waste disposal.
·       Installation
Wall-mounted toilets require a professional installation, and the process can often be very complicated and costly. Make sure to hire a licensed plumber to install the toilet.
·       Toilet Seat
Make sure to choose a toilet with a comfortable and durable seat. Elongated seats are a nice choice as they provide increased room. Look for a seat with a slow-closing mechanism to prevent slamming.
Wall Mounted Toilets: Pros and Cons
Here are some pros and cons to consider when deciding whether a wall-mounted toilet is a right choice for your bathroom.
Pros
Wall-mounted toilets take up less space in the bathroom than traditional floor-mounted toilets.
They are low maintenance as there is significantly less area to clean.
The lack of crevices and hard-to-reach spots means that there are fewer areas for germs and bacteria to accumulate.
They look more modern and stylish than traditional floor-mounted toilets.
It can be placed at any height that is comfortable for the user.
Cons
Wall-mounted toilets often have a more complicated installation process, especially the ones with concealed tanks.
They are often more expensive if you include the hefty installation cost.
Repairs are expensive and time-consuming.
They require a sturdy wall to support them. If the wall is not strong enough, the toilet may not be able to support the weight of the user.
Frequently Asked Questions
Here are some questions people frequently ask about wall-mounted toilets on the internet.
1.    Is installing wall-hung toilets a good idea?
Wall-hung toilets save a lot of space and look very stylish. They're the best choice if you have a shortage of space in your bathroom.
2.    Which types of toilets are better, a wall-mounted toilet or a floor-mounted toilet?
Both have their good and bad sides. If you want to save space and want a toilet that's easy to clean and low maintenance, then go for wall-hung ones. For comfort and durability, go for floor-mounted ones.
Also, wall-mounted toilets typically have a costly installation, but that is a one-time hassle. 
3.    Do wall-hung toilets leak or come loose?
Like any toilet, wall-hung toilets can leak or come loose if not installed properly or if there is damage to the plumbing or toilet components.
4.    What height should a wall-hung toilet be?
The recommended height for a wall-hung toilet is between 15 to 19 inches from the floor to the top of the toilet bowl.
5.    How far does a wall-hung toilet stick out?
The amount that a wall-hung toilet sticks out from the wall can vary depending on the model, but on average, it protrudes around 20 inches from the wall.
6.    How do you unclog a wall-mounted toilet?
To unclog a wall-mounted toilet, it's important to turn off the water supply before attempting to clear the blockage. A plunger or toilet auger can be used to push the blockage through the pipes. If this doesn't work, use a drain cleaner.
Conclusion
Not only wall mounted toilets save space and provide a sleek, modern look to any bathroom, but they are also more hygienic and easier to clean.
The best wall-mounted toilet would be the one that complements your bathroom while giving you the comfort and benefits you need. So, prioritize your needs first before looking for a toilet for your bathroom.