As a household fixture and sanitary engineer with over 15 years of experience, I have to work with and test several toilet models from different brands.
And what makes the Red Dot Design award-winning brand Duravit different from top toilet manufacturers is their quality and attention to detail.
The company has 16 different series of toilets, including Architec, D-Code, DuraStyle, Happy D.2, Starck (1-3), Vero Air, and many more. Finding the best Duravit toilet from the long list is pretty time-consuming for a first-timer. 
After going through each of their models, I found the overall best deal is Durastyle, though it's a bit pricey.
There are 3 more toilet models that are also good options for both household and corporate uses. Make sure to read the complete article to avoid making any wrong investments.
4 Best Duravit Toilets – At a Glance
Image
Product
Features
Price

Best Overall

Standard 12-inch rough-in for easier installation
Less dirt and grime accumulation
Convenient large sitting area

Check on Amazon

Best Budget

Porcelain bowl is easy to clean
Quiet flushing system
Easy installation process

Check on Amazon

Maximum Height

Uses 20% less water than the standard toilets
Coordinates well with other D-Code lines
User friendly for disabled people

Check on Amazon

Powerful Flush

Ideal for household and office use
Comfortable elongated bowl
Suitable for tall individuals



Check on Amazon
History of Duravit
It's been over 200 years since Duravit has been operating in the sanitaryware industry. And it's a German company. They have a long history of success.
Let's just take a quick look at a few of the milestones, and this will give you a clear idea about what Duravit is and how much they have adapted with changing eras.
1817: Founded by Georg Friedrich Horn as an earthenware factory in Hornberg, Germany.
1920: Introduced its first line of bathroom furniture, which included toilets and bidets. 
1950: Expanded to multiple countries.
1960: Started manufacturing wall-mounted toilets.
1970: Began to focus on their product's color, design, and sizes to make them more appealing and suitable for the mass market.
1980: Expanded its product line to include porcelain bathroom fixtures, such as toilets, sinks, and bathtubs.
2012-2017: Focused on manufacturing environmental-friendly products (ISO 14001 and ISO 50001 standards).
2020: Duravit won the prestigious Red Dot Design Award.
Duravit Toilet Pros and Cons – What You Spend Vs. What You Get
All Duravit toilets come with a ton of benefits, including rimless flushing technology, different types of flushing systems, a wide range of designs (comfort and short-height). They also feature a 12-inch rough-in design for easy installation.
However, their high price point and lack of included toilet lid are drawbacks that may not be suitable for budget-conscious buyers. Let's take a quick look at the goods and odds of Duravit toilets in this section.
Benefits of Duravit Toilets
The key factors that make Duravit toilets stand out are their rimless and diverse flushing system, easy installation, comfortable heights, and extensive design ranges.
Check out more about them.
Modern Rimless Flushing Technology
It's a common factor in Duravit toilets. This ensures adequate flushing results, even with a small amount of water. Also, the open engineering of their flushing system makes it easier for users to clean the bowl.
Architec, D-Code, Durastyle, Starck 3, and Vero-these all have this feature in common.
Different Types of Flushing Systems
Most Duravit toilets feature dual-flush systems, which is great from an economic perspective. Basically, these consist of a single and full flush mechanism that optimizes water flow depending on the type of waste.
For instance, single flush systems are meant for liquid waste and the full flush ensures adequate water pressure for solid waste. Besides, you'll find some mid-budget Duravit toilets with a single flush mechanism.
And most of their premium models feature siphon jet flush settings that deliver strong, reliable flushes every time.
Wide Range of Designs
Whether you want a floor-mount or wall-mount-supported toilet, Duravit has it all covered. Without that, they also have different categories of toilets, including barrier-free and shower toilets.
Comfort-Height and Short-Height Toilets
Keeping both Western and Asian users in mind, Duravit offers different sizes and heights of toilets. For taller people, they have a comfort-height category. Usually, these have 5 centimeters higher height than typical toilets.
On the other hand, to match the average kid's preference, they have an extensive line of short-height toilets.
12-inch Rough-in Design for Easy Installation
Most of Duravit's lines feature a 12-inch rough-in design. It's the most common rough-in measurement and is more widely available. So you can easily find replacement parts and accessories.
In addition, it's also a standard measurement in modern construction. Therefore, they fit most household and corporate bathrooms. You don't need modifications to the plumbing or the toilet installation.
This can save time and money during the installation process.
Drawbacks of Duravit Toilets
Beyond those significant advantages, Duravit toilets also have a few downsides. Firstly, their high price is a serious concern for budget seekers. While their quality justifies the price, a $400+ starting price point is a curse for many homeowners.
Another common issue with their toilets is most of them don't come with a toilet lid. So, you need to spend some additional bucks and research time to find a perfect seat cover.
Our Top 4 Picks of the (Best Duravit Toilet)
Considering overall price vs values, Durastyle, D-Code, Starck, and Vero series are their best product lines so far. Check out the top Duravit toilets and their odds and evens based on my personal evaluation.
1. Duravit Durastyle 2157010005 Toilet –  Best Overall
Highlighted Features
Finish: White Alpine
Dimension: 14.63 x 28.38 x 28.5 inches
Toilet Height: 15.75 inches
Flush: Dual-flush
Seat Material: Plastic (Not included)
My testing experience with this Duravit Durastyle toilet is a mix of both goods and odds.
Starting with the goods, firstly, the 1-piece toilet features a dual flush capability. You can use the full flush for solid waste (6 liters) and the partial flush for liquid waste (3 liters).
In that way, you can reduce the amount of water used for each flush, which can lead to significant water savings over time. Considering typical household sanitation lines and installation requirements, Duravit built this toilet with a 12-inch rough-in.
It's a standard measurement, so it's easier to find a replacement toilet for an existing bathroom.
On one side, I admire modern design. However, there are a few issues that I have encountered with this toilet. It doesn't come with a seat cover, which is inconvenient for the $620+ price class.
I suggest buying a Duravit toilet seat cover. It has the suitable Length: Width ratio to match this Durastyle. You can get it for under $90.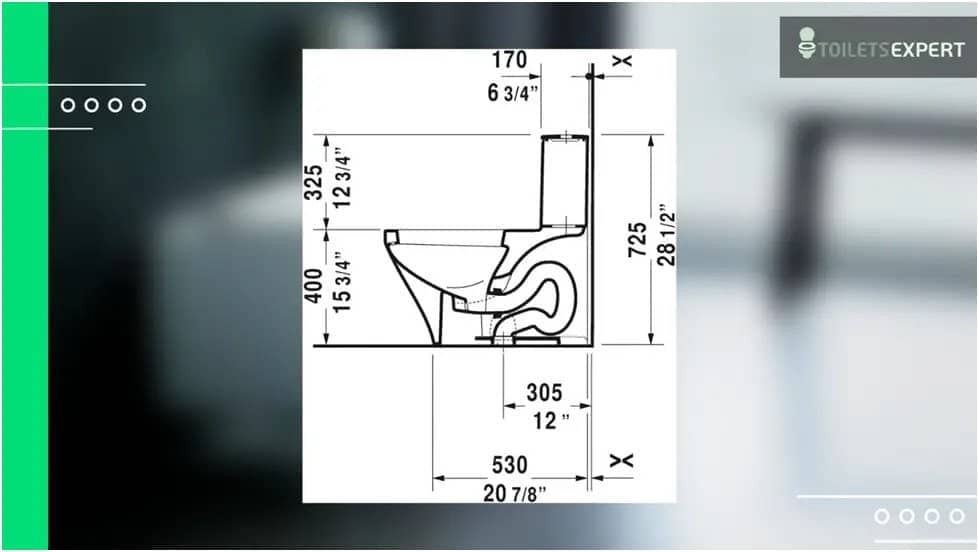 Image Description: The toilet has a standard height and elongated bowl, with dimensions of 14.63 x 28.38 x 28.5 inches.
In addition, the net height of the toilet is around 15.75 inches, meaning it won't provide a convenient experience for tall fellows around 6 feet.
Pros
Dual flush capability for water conservation
Standard 12-inch rough-in for easier installation
1-piece design results in less dirt and grime accumulation
The large sitting area makes it convenient for adults
Cons
Seat cover not included
The low height isn't for taller individuals
2. Duravit Starck 3 2227090092 Wall-Mounted Toilet – Best for Budget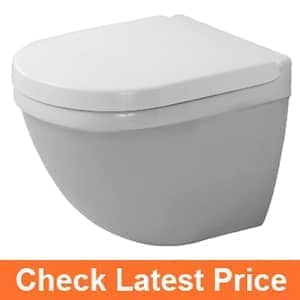 Highlighted Features
Finish: White Alpine
Dimension: 14.13 x 19.13 x 15.63 inches
Toilet Height: Same (Can be adjusted)
Flush: Dual-flush
Seat Material: Plastic (Not included)
Under $420 price, this Duravit Starck 3 is a great deal for budget seekers. And the best part is you're getting a swiss-style wall-mounted toilet, which usually costs above $600.
Another factor that stood out for me was the easy installation process. I tried framing it with the Geberit concealed toilet carrier frame, and it worked perfectly fine.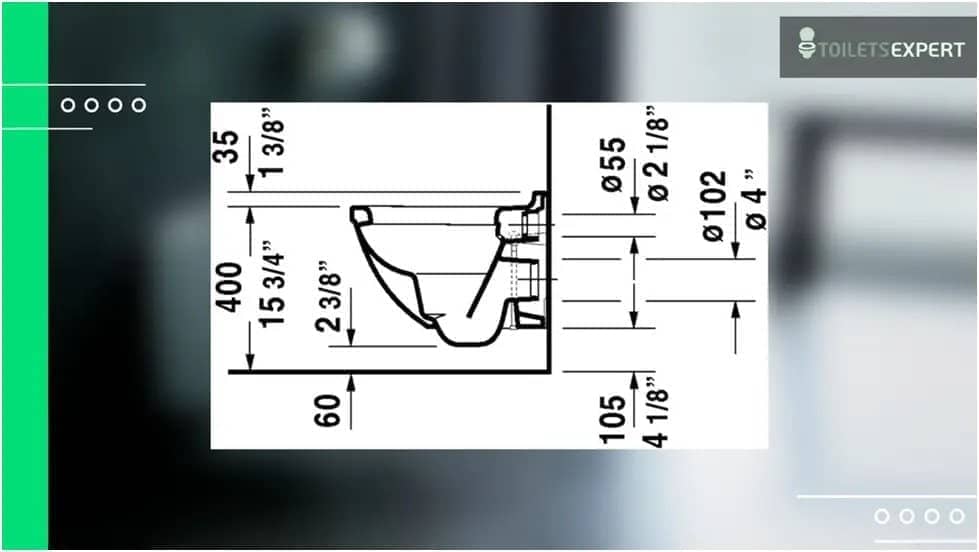 Image Description: After installing it on the wall, this is the overall dimensions (14.13 x 19.13 x 15.63 inches) of the Duravit Starck 3 toilet.
Just like the Durastyle series, it also features a dual-flush system, making it a suitable deal for users wanting to optimize the cost of their water bill.
I also appreciate that it doesn't make a lot of noise when flushing. For late-night bathroom trippers, it's an important spec to consider.
The porcelain bowl doesn't have any crevices where dirt or bacteria can accumulate. Therefore, it requires less stress to clean.
Pros
Easy installation process with Geberit concealed toilet carrier frame
Dual-flush system helps reduce water usage and save on utility bills
A quiet flushing system is ideal for late-night bathroom trips
Porcelain bowl is easy to clean with no crevices to accumulate dirt
Comfortable to sit on despite not being an elongated bowl
Cons
Plastic seat is not included, which adds an extra cost to the purchase
3. Duravit D-Code 0113010001 Single-Flush Toilet – For Maximum Height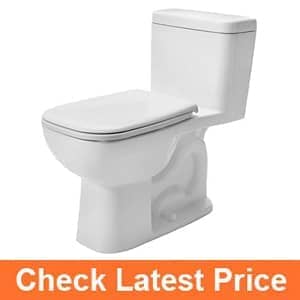 Highlighted Features
Finish: White Alpine
Dimension: 18.5 x 15.5 x 29.12 inches
Toilet Height: 16.5 inches
Flush: Single-flush
Seat Material: Plastic (Not included)
For both commercial and home bathrooms, the Duravit D-Code is a decent option under the $500 budget range. It comes with a single flush system suitable for quick cleaning after use.
What I didn't like was the side placement of the flush. Nowadays, most people are used to having a rear flush.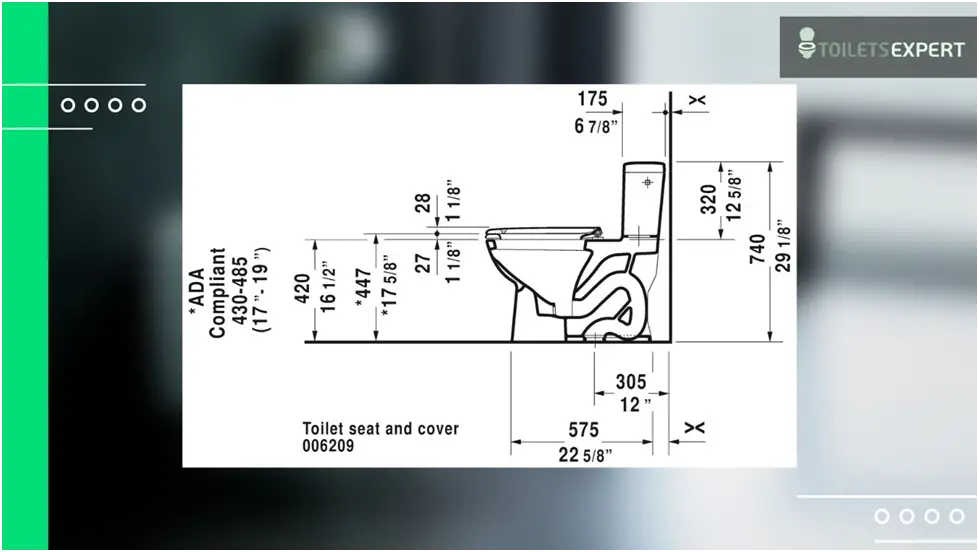 Image Description: Duravit D-Code toilet comes with dimensions of 18.5 x 15.5 x 29.12 inches. The toilet is shown in a side view to provide a clear idea of the measurements.
Because of the mid-large dimension, it feels very comfortable for adult users. The extra tall bowl to floor height also gives a convenient experience. However, it may not be a good match for a kid's bathroom.
Unfortunately, this one also doesn't come with a toilet lid. Separate toilet lids that match this model will cost you an extra $100. Also, there's no soft-close supported seat cover available for this model.
If you decide to onboard this home, this Duravit elongated seat cover will fit perfectly.
Pros
Uses 20% less water than the standard toilets
Meets ADA standards, making it user-friendly for disabled people 
Coordinates well with other D-Code lines
One-piece build provides a simplified installation
Easy to clean, even by kids
Cons
Doesn't come with a toilet lid
Not suitable for kid's uses
4.    Duravit Vero 2103010005 Toilet – For Powerful Flush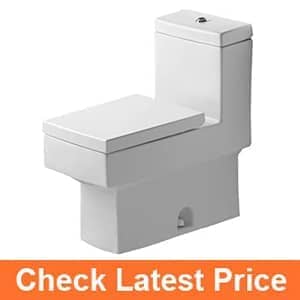 Highlighted Features
Finish: White Alpine
Dimension: 14.76 x 28.54 x 29.5 inches
Toilet Height: 16.5 inches
Flush: Siphon Jet
Seat Material: Plastic (Not included)
Vero is one of Duravit's most premium-priced toilet models. They advertised this series as the best toilet for the powerful flush.
And after a week of inspection, I found the flush viability is really up to the mark and incomparable even with other premium toilets tagged with $1000. 
The siphon jet flush mechanism delivers a forceful flush that effectively removes waste from the bowl, making it an excellent choice for household and office uses.
I also felt comfortable sitting in its elongated bowl. It provides additional space and support during use.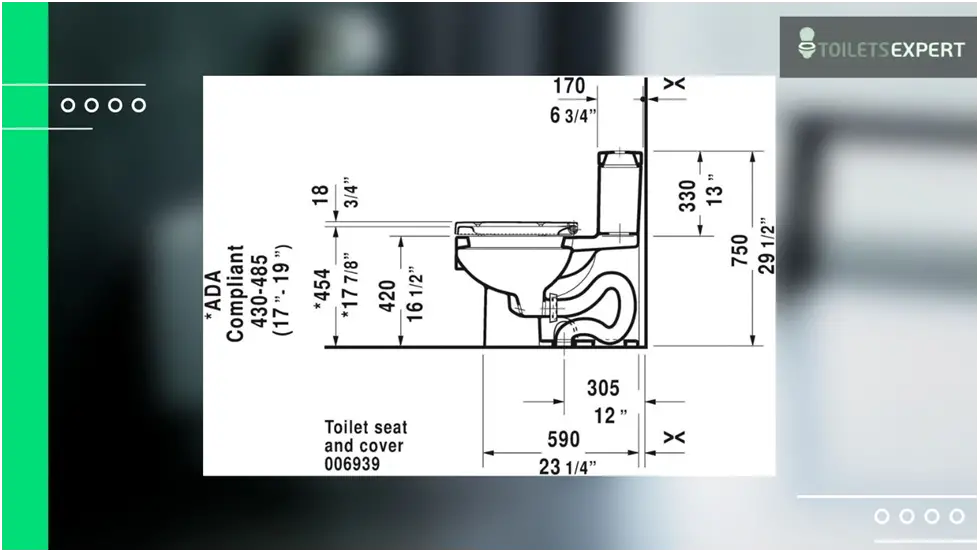 Image Description: A sleek and contemporary marvel of modern engineering, standing at 14.76 inches in depth, 28.54 inches in width, and 29.5 inches in height.
Although the overall height of the toilet is standard, the floor-to-bowl height is suitable mainly for adults and tall people.
The drawback of this model is that it does not come with a seat cover. However, Duravit offers the 0069390000 lid, which includes soft-close hinges.
Pros
A powerful flush mechanism that effectively removes waste from the bowl
Comfortable elongated bowl that provides ample space
Suitable for tall individuals due to the floor-to-bowl height
Ideal for household and office use
Cons
No seat cover is included with the toilet
Frequently Asked Questions
1.    Is Duravit a high-end brand?
Duravit is one of the premium brands in the bathroom fixtures industry, operating in 130+ countries.
2.    Is Duravit sustainable?
Yes, Duravit is committed to sustainability and has implemented various initiatives to reduce its environmental impact. It has an environmental management system in place that meets international standards, such as ISO 14001 and ISO 50001.
3.    Where are Duravit toilets made?
Duravit has production facilities in different countries, including Germany, China, France, Egypt, Tunisia, and India.
4.    What are Duravit toilet seats made of?
Duravit offers its toilet seats separately, which are made of plastic.
5.    Where is the Duravit model number?
You can find your Duravit toilet's model number on either the back of the unit or the water supply panel.
6.    How do you clean Duravit?
Use a mild, non-abrasive cleaner and a soft cloth or sponge to clean Duravit surfaces. Avoid harsh chemicals or scrubbers, and rinse thoroughly with water after cleaning.
7.    What is Duravit WonderGliss?
Duravit WonderGliss is a ceramic glaze used on the surfaces of toilets, washbasins, and bathtubs. This special coating forms an exceptionally smooth, non-porous, and scratch-resistant surface that repels dirt and water, making it easier to clean and keep hygienic.
Wrapping Up
Duravit offers a wide range of toilet models, each with unique selling points (USPs). All 4 Duravit toilets I mentioned have unique selling points (USPs.)
However, to me, the best Duravit toilet is the Durastyle 2157010005. Because of the high price tag, some may think twice. But considering the value, this is worth the investment.
You must need to know these after buying a Duravit toilet: