Whether you're short on space or just want to update the look of your bathroom, a corner toilet is a great option. In this review of the best corner toilets, we'll be exploring the top 5 best corner toilets on the market today.
These five are equipped with features like the 12-inch rough-in space-saving option, dual flush system, slow closing seat, right height, and many more to make your life easier.
By the end of this article, you'll have all the knowledge you need to make an informed decision when it comes to purchasing a corner toilet for your home.
Best overall: Sheffield Corner 2-Piece 0.8 GPF/1.6 GPF WaterSense Dual Flush Elongated Toilet
Our Top 5 Picks of the Best Corner Toilets
Let's get straight to the review of top toilet brands consisting of corner toilets.
1. Sheffield Corner 2-Piece 0.8 GPF/1.6 GPF WaterSense Dual Flush Toilet (Best Overall)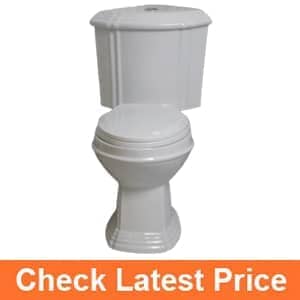 Compared to other corner toilets, this one is an excellent value for the price due to its powerful flushing system and heavy-duty porcelain construction.
Sheffield Corner 2-Piece 0.8 GPF/1.6 GPF Toilet, and it has been an excellent addition to my bathroom. This toilet has a slow-close seat that ensures safety for my family and prevents the loud closing of the lid.
Its two-piece design also provides ease of cleaning, as it separates into two pieces for easy access. Plus, the reno-glass finish helps me save time cleaning the toilet as it is stain-resistant.
A dual flush function is incredibly efficient, and you can easily choose between 0.8 and 1.6 GPF depending on your needs for liquid and solid waste, respectively. This makes the toilet WaterSense certified!
It's constructed with durable porcelain, making it strong and long-lasting.
Pros
Damage and crack-resistant exterior make it durable
The glass finish makes it easy to maintain
Saves water and your utility bill
Cons
Does not come with the necessary installation tools, so you need to spend money on that
2. American Standard 270BD001.020 Cadet 3 Two-Piece Triangle Toilet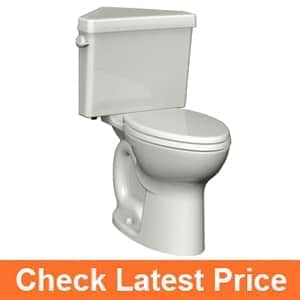 I recently purchased the American Standard 270BD001.020 Cadet 3 Toilet, and I have been thoroughly impressed by how it instantly transformed my bathroom.
This toilet has a 12-inch rough-in, making it a great choice for smaller bathrooms with limited space as it fits perfectly inside my 3 feet x 5 feet bathroom.
Its triangle shape provides a unique look that stands out from other toilets and makes my bathroom interior look elegant. The height is also just right, so you don't have to hunch over when sitting on it.
Furthermore, the flushing power is very strong and can quickly clear out any mess with a single flush. Compared to other toilets I've used, this one has been much more efficient in terms of water usage.
However, for me, the flush handle is too stiff and takes a little extra effort to use. I already broke it once while implying extra pressure to flush.
Pros
Provides a comfortable bathroom experience
Durably constructed with vitreous China
Makes your bathroom look elegant
Cons
The flush handle is a bit stiff
3. Signature Hardware Braeburn 1.28 GPF Two Piece Toilet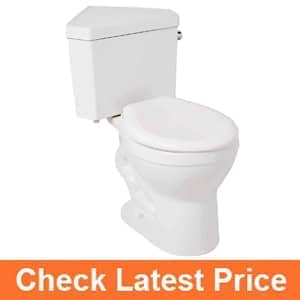 I recently upgraded my compact guest bathroom with the Signature Hardware 1.28 GPF Toilet, and I'm very impressed.
This corner toilet has a modern look and saves a lot of space in comparison to traditional toilets. Its round bowl has a surface area of 8″ x 10″, and it's the perfect size for smaller bathrooms.
I bought it because it also comes with a slow close seat that prevents slamming. My previous guest bathroom toilet seat had to be fixed multiple times because guests wouldn't bother closing it slowly.
Additionally, the 1.28-gallon flush has extreme pressure that clears waste effectively and prevents clogging. Thus, it conserves water without sacrificing operations.
In comparison to other corner toilets, this one stands out due to its sleek design and efficient performance.
However, my only complaint would be that it didn't come with an instruction booklet for installation, so I had to hire a plumber to adjust the water supply from the tank to the bowl.
I highly recommend this toilet to anyone looking for a stylish, space-saving solution for their bathroom.
Pros
Amazing space saver for compact bathrooms
Water pressure prevents waste clogging
Powerful flush makes toilet cleaning easy
Cons
No assembly instructions have been added, and it does not come with the necessary bolts, screws, and wax rings.
4. Troyt Compact Corner Bathroom Toilet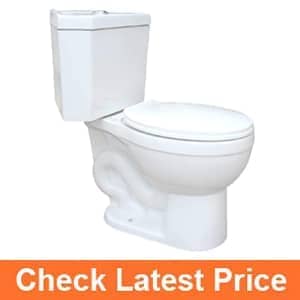 The Troyt Compact Corner Toilet is my recent purchase, and I'm so glad I did. This toilet is perfect for small bathrooms, as it fits into a corner space and is designed to conserve space.
The dual flush system of 0.8 GPF and 1.6 GPF (gallon per flush) ensures that you can save on your water bills. Because two flush buttons provide the option to go for a full or half flush depending on how much water is needed to clean out waste.
The 'High Low Top Tank Button' Flush is easy to use and allows you to choose the amount of water used per flush as required.
Additionally, it is made of heavy-duty porcelain with a reno-glass finish. It means the toilet is extremely durable alongside being stain-resistant, making my cleaning job easy.
Moreover, the slow closing seat cover saves the seat from hard slamming when I'm in a hurry in the morning.
When compared to other corner toilets, this one stands out because of its sleek design, round shape, and glass finish
Pros
The powerful and sustainable flushing mechanism
Easy to clean
Durably built
Cons
The round seat might be uncomfortable for tall users
5. Titan Pro Right Height Elongated Two Piece Triangular Toilet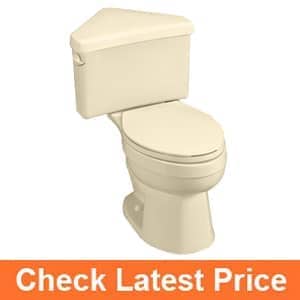 Titan Pro Two Piece Triangular Toilet in the color finish bone is perfect for those who are looking for a corner toilet to fit in tight spaces.
It has an elongated bowl and the right height that allows taller family members to sit on it without straining their backs.
The 1.28-gallon per minute flushing system works great as the siphon action implies great water pressure that cleans the bowl without a need for a second flush.
And the price was reasonable, and the weight of the toilet wasn't too heavy, making it easy to install. The installation process of the bathroom was also easy, taking only about 30 minutes to complete.
The bone color was a perfect choice for any rustic bathroom, as it blends nicely with such colors. However, the toilet does not include the seat in its packaging. So, you need to buy it separately.
Overall, I am very satisfied with my purchase. The Titan Pro Right Height Elongated Two Piece a Triangular Toilet is a great option for those looking for an affordable, space-saving corner toilet.
Pros
Easy-to-read instruction booklet makes installation easy
Impeccable bowl cleaning with flush
Suitable for all-height users
Cons
The set does not include a seat
Corner Toilets Pros and Cons
Let's look at the common benefits and drawbacks of corner toilets for your bathroom.
Pros
Corner toilets can save a lot of space in your bathroom, making them great for small bathrooms.
These toilets offer a modern look, which is great for home renovations or if you're looking to change the look of your bathroom.
Corner toilets often have a sleek and minimalistic design, which helps add to the modern feel of a room.
They come with an elongated bowl shape, which provides more comfort and better support when sitting down.
Corner toilets also have a powerful flush, making them great for busy households and, as it

prevents waste clogging

.
These toilets are also easy to install, which makes them a great choice for DIYers or those on a tight budget.
Cons
They are often more expensive than traditional toilets.
Corner toilets are not as easy to install as traditional toilets, so you may need the help of a professional plumber for installation.
Cleaning around the edges and corners of a corner toilet is more difficult than traditional toilets due to their awkward shape.
Corner Toilets Buying Guide
To help you pick the perfect corner toilet for your bathroom, here is a toilet-buying guide.
Space in Your Bathroom
You must ensure that you have a decent space in your bathroom. This is important to make sure that the toilet fits comfortably and securely in the corner of your bathroom, as well as to allow for easy access to it.
Be sure to measure the dimensions of your bathroom before selecting your corner toilet to avoid any problems.
The Height of the Toilet
When selecting a corner toilet, it is important to consider the height. A toilet with a higher rim provides greater comfort for taller individuals, while toilets that are lower are more comfortable for those who are shorter.
Consider the needs of your family members when selecting the right corner toilet to ensure everyone's comfort.
How Do You Install Corner Toilets?
Installing a corner toilet can be a challenging task, but with the right steps, you can install it easily. Here's what you need to do:
Shut off the water supply to the toilet and remove any items from the tank.
Gather the necessary supplies for installation, which include a corner toilet, wax ring, bolts, and a rubber sealant for the floor.
Place the wax ring around the flange of the toilet and set the toilet into place. Make sure that the flange is level and the wax ring has stuck to the bottom of the toilet.
Use the bolts provided to secure the toilet in place, making sure they are tight enough so that there is no wiggle room.
Connect the water supply line to the back of the toilet tank and tighten it with a wrench.
Turn on the water supply and make sure that there are no leaks.
Attach the tank lid securely onto the top of the tank, and you are done!
Frequently Asked Questions
1. Are corner toilets a good idea?
Corner toilets are a great option for tight spaces or oddly shaped bathrooms. It provides space and elegance to your bathroom. 
2. Does a corner toilet take up less space?
Yes, corner toilets are designed to fit into tight and compact bathrooms and take up less space.
3. Can a toilet be in a corner?
Of course, as the name says it all- a toilet can be placed in the corner of the bathroom.
4. Which corner is best for a toilet?
The Sheffield Corner 2-Piece Elongated Toilet is the best corner toilet in terms of functionality and space-saving.
5. What shape of toilet is best?
Round or elongated toilets are the most popular and provide the best comfort.
6. Can we have a toilet in the south corner?
Yes, a corner toilet can be installed in any corner of your bathroom.
7. What's The Solution To Small Bathrooms?
Small bathrooms can be made more functional and stylish with corner toilets. They provide extra space and modern design options to suit any bathroom style.
8. How much space is needed for a corner toilet?
At least 22 inches from the back wall to the center of the toilet, plus enough room to fit your body in the bathroom.
9. How do you measure the rough-in for a corner toilet?
Measure the distance from the wall behind the toilet to the center of the drainpipe. This measurement is the rough-in size.
10. How far is the toilet rough-in from the wall?
The rough-in for a corner toilet is typically 12 inches from the wall.
11. Does a corner toilet save space?
Yes! Corner toilets can save up to 30% of the bathroom space compared to standard toilets.
12. What are the best corner toilet brands?
Some of the best and most recognized brands for corner toilets are American Standard, Trout, and Signature Hardware.
Final Words
Now that you've come across a range of corner toilets, you may wonder which is the best corner toilet for your bathroom. All five of them have their pros and cons.
But if you're looking for a standard design, functional, space-saving and a modern upgrade, the Sheffield Corner 2-Piece Elongated Toilet will fit your needs and budget.