If you can't install a full vent for the plumbing system, that doesn't mean you will have to deal with sewage gases. Air Admittance Valve or AAV comes as a savior for this. Whenever the plumbing system needs air, this valve is capable enough to deliver the air flow for proper maintenance.
Technically, it sounds good enough. But when you are looking for a quality Air Admittance Valve for toilet, you can get a bit overwhelmed as there are too many options. Based on the recommendations from professional plumbers, we found these 4 products to benefit their customers better than other ones out there.
And among all 4 products, the Oatey 39017 Sure-Vent AAV seems to provide great value for household uses for its versatility and relatively low price point.
Our Top 4 Picks of Air Admittance Valve For Toilet
Regardless of the requirements of the plumbing system, you will find the right one among these 4 AAVs.
1. Studor 20341 Mini-Vent Air Admittance Valve
This mini-vent by Studor is a compact AAV vent for toilet that comes along with a PVC adapter. The adapter is an essential addition for maintaining the sealing system. It works by gravity and air pressure in an automated process that seals the vent and prevents the smell from coming out of the pipe.
You can use this AAV whether in a single fixture or in a bunch of several fixtures. It can handle multiple fixtures quite well, and you won't need any extra pipework for the plumbing system. The polyvinyl chloride made body makes the AAV durable for years and decades.
Pros
Maintains necessary vacuum in the vent
Resistant against all type of chemicals produced in the toilet vent
Can detect bugs and other harmful objects
High temperature endurance (-40℉ to 150℉)
Prevents sewer gases to circulate around the seal
Cons
Not suitable for commercial uses
2. Oatey 39017 Sure-Vent Air ADM Valve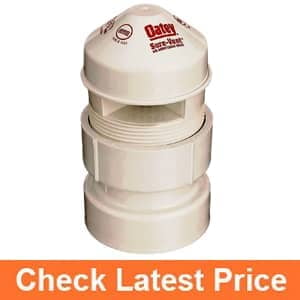 This one here is a versatile and budget-friendly piece of AAV for toilet vent which you can use on sinks and remote toilets. Yeah, you read it right. These valves aren't only for toilets; some of these have versatile uses.
Whether you use this AAV in single or multiple fixtures, the installation process is super easy, and you won't have to look for plumbers to attach extra vent pipes.
It allows one-way flow of air inside the toilet vent by maintaining optimum pressure. The sewer gases create positive air pressure that seals the vent terminal.
As a result, bad smells can't enter the vent, and regular ventilation occurs without any hindrance.
Pros
Ensures one-way airflow
Doesn't need any complex pipework
Allows 1.5" to 3" adapter connections
Can be used in multiple fixtures easily
Have a capacity of 24 DFU
Cons
Can't handle a large amount of water
3. Studor 20349 Redi-Vent Air Admittance Valve with ABS Adapter
The StudorRedi-Vent AAV can be the savior for maintaining a proper draining and venting system. Though this is a compact and budget-friendly unit, you can use it in your home and even in commercial buildings.
It works by the negative pressure of air while discharging the fixtures. While allowing fresh air into the vent, the seal prevents the sewer gases on the other side.
When used in commercial buildings, the air admittance valve and the ABS adapter effectively work on the large plumbing system irrespective of the number of fixtures. You can skip expensive plumbing pipework for the drainage system when you get this AAV.
Pros
Has an automated sealing system
Can handle large drainage system
Prevents drain odor from coming out of the toilet pipe
Ensures regular ventilation
Vermin protection system prevents bugs
Cons
 Water might get bubbled out and create mess
4. Oatey 39223 Sure-Vent Air Admittance Valve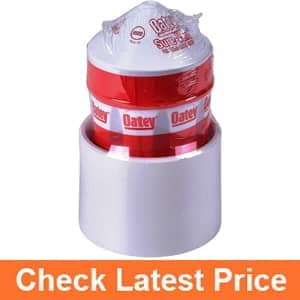 Last but not the least, we have an AAV with the highest capacity of 500 DFU for safe and efficient plumbing performance. The OateySure-Vent air admittance valve in bathroom is such a valve that will fit perfectly in your toilet vent as it allows up to 4" adapter connections.
With the Oatey AAV valve, you will barely need any extra branch vent because it can handle the venting system quite well. For ensuring an economical plumbing system, there is nothing better than this Sure-Vent AAV.
Maintaining the drainage system gets easy as you can use it as a substitute for the complex pipework of the toilet vent to maintain sensitive air pressure fluctuations.
Pros
Uses both positive and negative air pressure
Automatic sealing system by gravitational force
Maintains water trap
Equalizes atmospheric pressure
Highest DFU capacity of 20 DFU
Cons
May not handle large plumbing system
Frequently Asked Questions
Q1. What are Air Admittance Valves?
Air admittance valve is a type of mechanical valve that works in a one-way system to prevent the bad smell from coming out of the drainage system. These valves allow necessary ventilation in the plumbing system.
Q2. How Does Air Admittance Valves Work?
Basically, air admittance valves work by maintaining the air pressure with the help of gravitational force. The air pressure opens and closes the valve to allow air circulation through the seal.
Q3. How to install an air admittance valve in a toilet?
In a drainage pipe, air admittance valves are installed on the point in which the pipe and the drain stack are connected. After installing the valve, you need to ensure that it fits well in the pipe. For better fitting, PVC glue is used in the connection.
You may read our article on: What Size Pipe is Best For Your Toilet Drain?
Q4. Where to install air admittance valves in a toilet?
Air admittance valves are installed in the toilet drain because the toilet ventilation system works near the drain. But you should be careful to install the valve a bit higher than the drain line.
Q5. Does a toilet need an air admittance valve?
A toilet definitely needs an air admittance valve for maintaining the necessary ventilation system in the toilet. Because these valves not only regulate airflow, they also prevent the bad smell of sewer gases.
Q6. Can air admittance valves be used externally?
Air admittance valves can be installed externally but only in certain situations with specific kinds of pipework in the plumbing system. But generally, they are installed internally.
Q7. Do air admittance valves smell?
Generally, air admittance valves don't smell if installed properly. But if an air admittance valve is used for a long time or installed with poor pipework, it can smell.
Q8. How high should an AAV be?
An AAV should be at least 6 inches higher than the drain line. Otherwise, it may block the drain line and create a hindrance to the ventilation.
Q9. Can you put an air admittance valve in a wall?
You can't put an air admittance valve in a wall as the valve does not remain accessible. Besides, it can't allow necessary ventilation if put in a wall.
Q10. How do you size an air admittance valve?
The size of an air admittance valve depends on the size of the adapter connections. You will find 1.5",2",3", and 4" adapter diameters that determine the size according to the vent pipe of your toilet.
Q11. How many air admittance valves do I need?
Generally, a single air admittance valve is enough for installing in both single and multiple fixtures. But often, some valves are only designed for single fixtures, and in that case, you have to use several valves for each fixture.
Q12. How long does an air admittance valve last?
Air admittance valves are long-lasting equipment having a lifetime of 20 to 30 years. But in case of a poor installation process, they can wear out in just a couple of years.
Final Words
Hope, you've already decided for which Air Admittance Valve for Toilet your plumbing system needs the most. Be sure to get it installed by a professional if you aren't familiar with plumbing stuff. It must be installed properly to make sure toilet gases don't leak.