As a plumber with more than 15 years of experience, I've seen all types of toilets. But in recent times, square toilets have become popular too. Speaking of which, today I'll discuss 5 of the best square toilet that money can buy.
After going through all the models on this list, I found that Duravit Durastyle offers the best overall deal.
Square toilets add a touch of modern elegance to any bathroom while also offering practical benefits that make them stand out from their traditional counterparts. Finding the ideal toilet is quite time-consuming for first-timers, but fret not!
In this article, I'll share my insights and expertise on which square toilet could be the best choice for your home.
5 Best Square Toilets – At a Glance
Our Top 5 Picks of the Best Square Toilet
Check out our top picks of square toilets and their odds and evens in this section.
1. Duravit 2157010005 Durastyle Toilet – (Best Overall)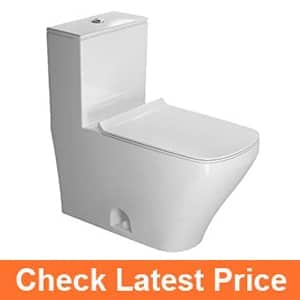 Highlighted Features
Finish: White Alpine
Dimension: 14.63 x 23.38 x 28.50 inches
Toilet Height: 15.75 inches
Flush: Dual-flush
Seat Material: Plastic
When it comes to Duravit toilets, I have always recommended the Durastyle to all my clients.
First off, the sleek and modern design of this toilet makes it a great fit for all contemporary bathrooms. The bowl and tank are made from high-quality ceramic, which gives the Durastyle a premium appearance.
Additionally, the rimless bowl design prevents the build-up of bacteria and dirt, which also makes the toilet easier to clean.The Durastyle comes with a powerful and efficient dual-flush system that can save water while also minimizing the need for repeated flushing.
However, I found one particular caveat with the Durastyle – the seat is too large, and it isn't suitable for everyone. For instance, my kids would tend to simply fall into the toilet even with a kids' toilet seat.
Pros
Sleek and modern design can make any bathroom appear elegant
1-piece design prevents dirt and grime accumulation
Large seating area makes it suitable for adults
Easy to install as it comes with a 12-inch rough-in
Dual-flush mechanism can save water bills in the long run
Cons
Low height makes it inconvenient for taller adults
Seat cover has to be purchased separately
2. Swiss Madison Well Made Forever SM-1T254 St. Tropez, Glossy White – (Best For Budget)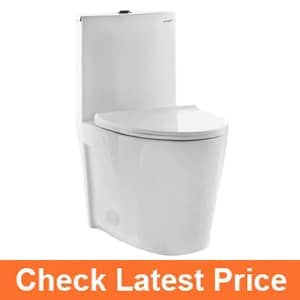 Highlighted Features
Finish: Glossy White
Dimension: 27.00 x 15.12 x 31.18 inches
Toilet Height: 16 inches
Flush: Dual-flush
Seat Material: Plastic
If you're looking for something that doesn't break the bank but has the looks and functionalities of a high-end toilet, you may be interested in the Swiss Madison SM-1T254.
This beautiful toilet can be a great addition to any bathroom – thanks to its sleek and elegant design. Moreover, the ergonomics of comfort and convenience on the SM-1T254 are sure to satisfy the OCD triggers of a person like me!
Made from high-quality materials all around, the toilet comes with a soft-closing seat that prevents slamming. Additionally, it has a quick-release hinge that allows you to easily remove the seat from the toilet.
But that's not all the SM-1T254 has to offer – with a powerful dual-flush mechanism and fully skirted trapway, the toilet stays clean and shiny even after years of use!
One issue that I felt was that the seat was too narrow – I am an average-sized adult, and I couldn't get comfortable during long toilet sessions.
Pros
Easy to clean and maintain thanks to the fully skirted design
Sleek and visually appealing design
Powerful dual-flush mechanism also has water-saving abilities
Comes with a soft-closing seat that prevents slamming
Quick-release hinge to remove seat proves to be extremely useful
Cons
The seat may feel too narrow for some users
3. WoodBridge T-0020 Dual Flush Elongated Toilet With Soft Closing Seat, Deluxe Square Design – (For Maximum Height)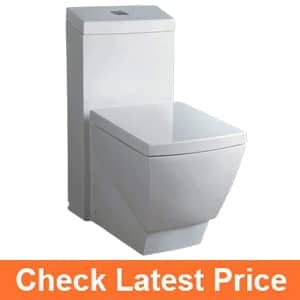 Highlighted Features
Finish: White
Dimension: 29.00 x 15.00 x 28.00 inches
Toilet Height: 16.50 inches
Flush: Text
Seat Material: Wood
I have recently installed the WoodBridge T-0020 in my guest bedroom. Long story short, everyone in the house, including my exceptionally tall brother has loved it!
WoodBridge has conformed to ADA standards and designed the T-0020 for impeccable comfort and convenience. Moreover, the toilet is surely the sleekest-looking one on this list.
It has an easy-to-wipe surface all around, so there are no corners/bends for dust build-up. Besides, the mounting holes and plastic caps can't be seen either!
The WoodBridge T-0020 also comes with a powerful flushing system that is surprisingly quiet. So, if you're a night-time bathroom tripper, you'll certainly appreciate the silence!
However, this WoodBridge toilet has one major problem when it comes to installation -the small cut-out for the valve on the left side is not very practical.
Also, the cut-off valve in the bathroom will have to be in the right location (or you won't be able to install the toilet).
Pros
Skirted trapway looks sleek while also being easy to clean
Powerful and super-quiet flushing mechanism
14-inch high tank provides comfortable back support
Comes with high-quality soft closing seat
A fully glazed siphon flushing design prevents dirt accumulation
Cons
Tough to install on an existing toilet system due to the small valve cut-out
4. Swiss Madison Well Made Forever SM-1T106 Concorde, Glossy White (Best For Small Bathrooms)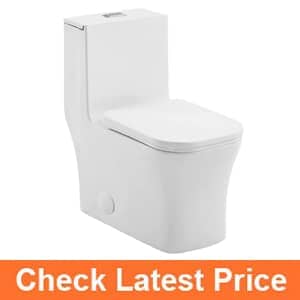 Highlighted Features
Finish: Glossy White
Dimension: 27.00 x 14.30 x 29.50 inches
Toilet Height: 15.75 inches
Flush: Dual-flush
Seat Material: Plastic
Lastly, we have the Swiss Madison SM-1T106. It has a modern and sleek design that can complement even the fanciest bathrooms.The one-piece toilet has a beautiful skirted design that is incredibly easy to clean.
I liked the fact that its soft-closing seat can be removed easily with the quick-release mechanism, so I won't have to spend more time scrubbing the toilet than I have to!
But looks aren't everything, and the SM-1T106 doesn't disappoint in terms of performance either. It comes with a powerful and efficient dual-flush system that can also conserve water.
In terms of ergonomics, this Swiss Madison toilet offers a fairly comfortable height that is suitable for users of all sizes and ages. The only shortcoming that I found is in its seating – the seat is too narrow for getting comfortable during long sessions.
Pros
Dual-flush system is quite powerful and can save water bills
The rimless interior and skirted design make for easy cleaning
Soft-close seat closes quietly and prevents slamming
Quick-release seat removal can prove to be useful when cleaning
Takes up very little space in comparison to conventional toilets
Cons
The plastic seat may be too narrow for some
5. EAGO TB356 Dual Flush (Best Eco-Friendly)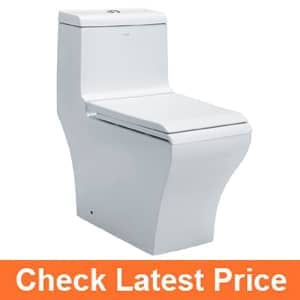 Highlighted Features
Finish: White
Dimension: 27.38 x 15.13 x 29.38 inches
Toilet Height: 15.75 inches
Flush: Dual-flush with ULF
Seat Material: Polypropylene
Over the years, I have installed and replaced toilets in my home quite a few times. But one toilet that I'm yet to replace is the EAGO TB356.
After having used it for almost 5 years, I can safely say that it is one of the best square toilets that money can buy!
To start with, it is fully glazed inside and outside (which is often found only in high-end toilets costing more than $1,000). This ensures that waste flows out smoothly every time.
Moreover, the powerful and efficient siphonic flush system can dispose of waste with a single flush.
Speaking of efficiency, the EAGO TB356 comes with an incredible ULF (Ultra Low Flush) of 6/0.8 gallons – in simple words, it has saved me both water and money, and it will continue doing so!
In terms of ergonomics, the height is convenient enough for users of sizes and ages, and the toilet itself is quite comfortable to use.
Pros
Soft-closing seat has comfortable ergonomics
Saves a considerable amount of water
Fully glazed inside and outside
Powerful yet highly efficient ULF dual-flushing system
Modern and sleek design makes it suitable for any bathroom decor
Cons
Installation of this toilet is a bit tricky
Square Toilets Pros and Cons
While square toilets have been gaining immense popularity over the years, are they really worth the hype? Let's take a look at their pros and cons!
1. Relatively More Stylish
Square toilets are visually appealing, and there's no denying this fact. They can add a unique touch to all types of bathrooms with their modern and sleek designs.
2. Takes Up Less Space
The most significant advantage of having a square toilet is that it doesn't take up as much space as conventional round toilets. This can be a game-changer for small bathrooms!Besides, who doesn't love a little extra space?
3. Usually More Expensive
Square toilets are relatively more expensive than traditional toilets. And truth be told, not everyone wants to shell out extra money for a toilet that does the same job!
4. Waste May Get Trapped in Corners
Conventional round toilets have a curved bowl that helps direct waste toward the exit. But in square toilets, waste may get trapped in the corners, and cleaning them off may become a real pain in the you-know-what.
How Do You Install Square Toilets?
A square toilet may differ from other toilets depending on their mounting systems. However, the process of installation is more or less similar for all types of toilets.
Here are the steps-
1.    Remove the old toilet
Clean up the area
Attach the new toilet to the long bolt on the floor
Ensure that the toilet is aligned with the rim of the toilet
Fit in the rear bolts and tighten the nuts to securely attach the toilet
And voila! By following these steps, you'll have installed your square toilet.
Frequently Asked Questions
Knowing the answers to some frequently asked questions regarding this topic may be beneficial for you.
1.    Are square toilets better?
Square toilets are better in the sense that they offer a more premium and elegant look. However, like conventional toilets, square toilets perform the same function.
2.    Are square toilets in style?
Yes, square toilets are preferred in contemporary bathrooms with modern designs.
3.    Which brand of toilet is most reliable?
While there are many reliable toilet brands in the market, I personally like Duravit. You can still explore other top toilet brands.
4.    Are square toilets popular?
Although we don't see them much, they have been gaining immense popularity recently.
5.    Which toilet shape is best?
Usually, conventional round-shaped toilets offer the best comfort.
6.    What country uses Square toilets?
They can be seen mostly in European regions such as Spain and Portugal, where the installation of square toilets are mandatory.
Conclusion
With all of that being said, I hope to have helped you choose the best square toilet for your bathroom. Keep in mind that the toilet height and seating comfort should be considered before you make a purchase. Best of luck!