Being in the toilet industry for more than 15 years, I've gone through various types of toilets coming from different brands. One thing I know for sure is anyone without proper knowledge about toilets is more likely to end up investing in the wrong one. 
Woodbridge is now one of the top toilet brands, it has its good and bad. And if you're thinking about getting your hands on the best Woodbridge toilet, I've got the Woodbridge T-0019 Cotton toilet for you. 
Want to go through more? I reviewed 4 more Woodbridge toilets to make sure you find the right product for your specific requirements.
Our Top 5 Picks of Best Woodbridge Toilets 
As mentioned before, choosing the right Woodbridge toilet is quite a task. And to save you the trouble, I've done all the work and come up with these 5 models. 
1. WOODBRIDGE T-0019 Cotton Toilet, White With Chrome Button (Best Overall)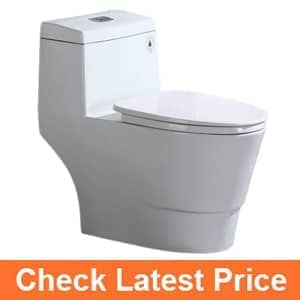 If you're looking for a Woodbridge toilet that performs well and also doesn't cost an arm and leg, then this Woodbridge T-0019 cotton toilet is what you're looking for. 
After installing this piece, I am saving money on water bills. That's because it's an EPA WaterSense-certified toilet that uses only around 1.28 gallons of water per flush. And that's a lot less water than what the traditional toilets use per flush.
Clogged toilets are one of the last things people want to deal with. I know it because I've kids at home who will try to flush literally anything they've in their hands. But since this toilet comes with a powerful flushing system, that stress is gone now.
The MaP score of this toilet is 1000 grams. In case you don't know what MaP score is, it represents how much waste (toilet paper, stool, etc.) the toilet can take out of the toilet fixture on a single flush. The higher the score, the more waste it can take out. 
It features a siphonic flushing system which is very powerful and extremely quiet. The glazed trap ways are hidden and efficiently wash away all the waste. 
Pros
The height is 16.5 inches, which makes sitting and getting up easy
Powerful and quiet flushing system
Comes in a modern sleek design
Very easy to clean
1000 MaP score
Packs everything needed for installation
Cons
This toilet is difficult to install
2. WOODBRIDGE B-0500 High One Piece Toilet, White (Best Budget)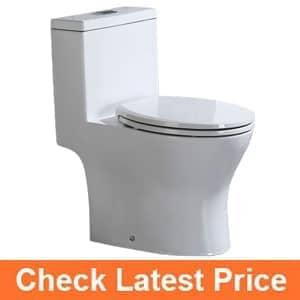 The Woodbridge B-0500 is the cheapest toilet on the list, and you know what the best part is? So, the price doesn't reflect its quality. It comes with a dual flush system that uses less than 1.6 gallons of water per flush. For smaller loads, it uses 1 gallon of water. 
Moreover, the flush is powerful, therefore, there won't be any clogging unless you try to flush something that's big. Plus, the flush is pretty quiet too. 
My kid's washroom is a little tight and this toilet fits perfectly. Not only that, they seem very comfortable sitting on this one due to its small size.
The bowl height is around 15 ½ inches. That much height should be okay for average people, however, tall people might struggle a bit. This toilet also features a top-notch toilet seat lid which has stainless steel seat hinges that are extremely durable.
Talking about durability, this entire toilet is made of porcelain and will last for decades.
Pros
The seat lid and hinge are highly durable
Features powerful dual flush 
Doesn't consume much water during the flush
Very less chance of clogging
Looks pretty modern
Cons
This toilet is very heavy
Not suitable for people with knee issues
3. WOODBRIDGE B0970S Smart Bidet Toilet Elongated One Piece Modern Toilet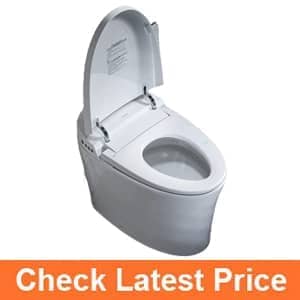 Right after the cheapest model, here we've got the Woodbridge B0970S, the most expensive toilet on the list. In terms of design and versatility, hands down, this is one of the best modern toilets in the market right now. 
This toilet features a hand-free flushing system, once you're off the toilet seat, the toilet will flush. There is a sensor in the bottom, so you can flush with the movement of your foot as well. And there is a button for flushing as well. 
The best part is, it comes with a self-cleaning spray wand as well, which can do posterior, feminine, and pulsating wash. You can adjust the water pressure according to your need. 
However, at the beginning it feels kind of weird, you need to position your back according to the spray wand. Woodbridge B0970S is very comfortable to sit on too.
The toilet height is 17.3 inches, making it effortless to sit and get up, which is best for older people. On top of that, this toilet features a heated seat and a powerful air dryer too.
And they can give you warmth instantly. No wonder why this toilet is that heavy on the wallet. 
Pros
Sleek, classy design
Doesn't require pressing the button to flush
Heated seat adds warmth
Takes out waste easily on a single flush
Comfortable toilet height
Extremely durable
Cons
Small seating surface
Pricey toilet
4. WOODBRIDGE T-0001, Dual Flush Elongated One-Piece Toilet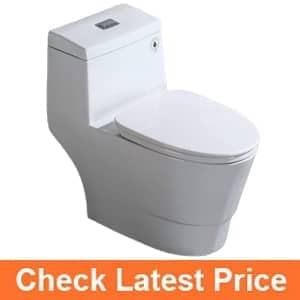 The Woodbridge T-0001 is one of the best-selling toilets in Woodbridge due to its affordable price and top-notch features. To be honest, I didn't see any major difference between this one and T-0019 in terms of features.
However, the T-0001 is slightly more expensive than the T-0019.It's constructed of ceramic which makes it durable. This construction also gives a very smooth finish which makes cleaning the toilet effortless. 
Features a dual flushing system that is not only powerful but is very quiet too. The flushing system can take out 1000 grams of waste with a single flush. This toilet comes in an elongated shape that's convenient for most people.
Along with that, it has a good height as well, my tallest friend doesn't complain anymore. The height of this toilet is 16.5 inches, enabling people with knee issues to sit and get up comfortably. 
Though the toilet seat is made of plastic, if handled with care, it should last longer. The seat opens and closes pretty smoothly as well. 
Pros
Very easy to clean
Less chance of being clogged
Modern design
Uses very less water in each flush
Comfortable toilet height
Can take out 1000 grams of waste on a single flush
Cons
Not easy to install
Porcelain would've made it more durable
5.    WOODBRIDGE T-0018/B-0735 Dual Flush Elongated One Piece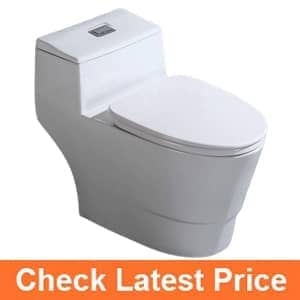 The last toilet on the list, Woodbridge T-0018, is another high-end toilet that went very well with my modern toilet. Constructed with porcelain which feels way better than all the ceramic toilets I've used. It's durable too.
Like ceramic, Porcelain construction also gives the toilet a very smooth finish that makes cleaning the toilet easily. As mentioned in the name, the toilet shape is elongated, which is a comfortable shape for most people. 
The toilet's height is over 16 inches, therefore, it'd be comfortable for people with knee issues to sit and get up from the toilet. 
Like most other Woodbridge toilets, this one also comes with a dual flushing system that's powerful enough to take out waste efficiently. Plus, it makes quiet operations as well. 
Pros
Heavy-duty construction 
Easy to clean
Takes all the waste out on a single flush
Comfortable toilet height
Comes in a classy design
Cons
Might get clogged
Hard to install
Factors to Consider When Buying Woodbridge Toilets
Toilets don't come cheap, therefore, it's mandatory for you to make sure the toilet you're investing in will serve you well. 
To make sure you invest in the right toilet, you need to know about the factors that make a toilet stand out from the rest. Go through this toilet-buying guide that has everything you need to know. 
Toilet Shape 
Mainly there are two kinds of shapes in toilets, round front and elongated. Woodbridge Toilets manufactures both of them. But which one would suit you best? 
Both these kinds come with their own set of pros and cons. That being said, elongated toilets are overall better.
If your bathroom space is small, in that case, round front toilets are your best bet. As these toilets are compact, that'll help save space in the bathroom.
Having that said, you might need to sacrifice comfort due to that, as some people don't like sitting in small toilets. 
On the other hand, in terms of comfort, elongated toilets are on top. They have an oval shape and give you a bigger surface area to sit. Elongated toilet bowls are 18.5 inches in size. 2 inches bigger than the round front ones. 
Toilet Height 
Like the shape, there are two types of toilet heights, standard and comfort height. And Woodbridge has both. 
Standard-height toilet seats aren't ADA (Americans With Disabilities Act) compliant, as they're shorter than 17 inches. Compared to comfort heights, standard-height toilets are less expensive.
However, for tall people standard height can be uncomfortable. Comfort height, on the other hand is 17 – 19 inches and they're ADA-compliant. With such height, people can sit and get up from the toilet without putting much stress on their knees.
And that makes it perfect for people who have some kind of leg injury. That being said, children and short people might struggle using these toilets. 
Toilet Rough-In
The distance between the center of the drainpipe and the toilet's rear finished wall is what is known as the toilet's rough-in. And the toilets in old buildings usually had rough-in of 10 to 14 inches.
But now the standard rough-in is 12 inches. And all Woodbridge toilets have 12-inch standard rough-in. 
Woodbridge Toilets Pros and Cons 
In the bathroom fixture market, particularly when it comes down to toilets, Woodbridge is one of the top toilet brands. What makes them stay ahead of the competition is their efficient flushing system, top-notch design, comfort, and variety. 
However, like any other product in the market, Woodbridge toilets also have both pros and cons. And here, I'll be taking you through all of them.
Pros 
Flushing System
All the Woodbridge toilets are WaterSense certified. In case you don't know, some states require toilets to be WaterSense certified, that's a rule. One motive behind this rule is, that Watersense certified toilets use less water per flush (Less than 1.6 gallons).
Though there are different types of toilet flushing systems, most Woodbridge toilets come with a dual flush system which is not only powerful but quiet as well. On top of everything, Woodbridge toilets are less likely to be clogged. 
Comfortable
As mentioned before, Woodbridge's elongated toilets have a large sitting area and that's very convenient. Not only that, the comfort height toilets make sitting and getting up from the toilet a breeze. 
Varieties
Woodbridge manufactures toilets in different shapes and heights. If your bathroom has less room for a big toilet, you can go for a small one. The same goes for the height as well, if you're short or have children, Woodbridge has short-height toilets too. 
Design
The modern and sleek design Woodbridge toilets come with will surely complement your bathroom decor. Their toilets are available in various colors too, allowing you to pick one that goes with your bathroom. 
Cons 
Expensive
Compared to other toilet brands, Woodbridge toilets are a little bit on the expensive side. Which can be hard for people looking for budget-friendly options. 
Availability
Unlike other popular brands, Woodbridge toilets aren't widely available. And that makes getting replacement parts and other accessories inconvenient. 
Frequently Asked Questions 
Who makes Woodbridge toilets?
Not only toilets but all the products under Woodbridge's label are made by Woodbridge Bath which is located in Canada. 
Where are Woodbridge toilets made?
Though there isn't any solid information about where Woodbridge manufactures their toilets, but it's assumed that they make it in China. 
Is Woodbridge a good brand?
Yes, Woodbridge has been serving the market with high-quality kitchen and bathroom products since 2005.
How quiet are Woodbridge toilets?
Most of the Woodbridge toilets use a powerful dual flush system that is very quiet. However, don't expect pin-drop silence, the movement of the water does make a little sound which is very normal. 
Do Woodbridge toilets have a warranty?
Yes, Woodbridge toilets come with a warranty. 
How do you use a Woodbridge toilet?
Using the Woodbridge toilet is the same as the traditional toilet. Your seat, press the button and it flushes. However, if you're using a Woodbridge toilet that has a hand-free operation feature, then you won't even need to press the button. The sensors will do it. 
Why are toilets called WC?
WC stands for Water closet and this term is used to describe flush toilets. 
How do you clean a Woodbridge bidet?
There are various ways to clean Woodbridge bidet but the easiest and most effective one is to use a brush and cleaning solution. 
Are Woodbridge toilets any good?
Yes! Undoubtedly, Woodbridge toilets are one of the top-notch toilets in the market. They are classy, comfortable, and loaded with features. 
Difference between Woodbridge toilet T0001 vs. T0019?
The major difference between Woodbridge T0001 and T0019 is the price. T0019 is expensive. Not only that, compared to T0001, T0019 is 33 lbs heavier. Lastly, T0019 toilet height is higher than the other one. 
Woodbridge Toilet Vs. Kohler toilet?
Most of the Woodbridge toilets are made of porcelain and have a pure white color. Whereas Kohler toilets come in a dune color. Plus, Woodbridge toilets have a better overall design than Kohler. 
Woodbridge toilets come with push button flush and a few features of sensor-operated flushes. In contrast, Kohler uses a lever located on the left side of the toilet.
Woodbridge B0960s vs. B0970s?
Both the B0960s and B0970s are versatile toilets that come with a set of advanced features. Though both have the same features, there is a minor difference and that is, B0970s consume more water than B0960s while flushing.
Final Words
Over the years, I've tried several toilets, therefore, it isn't hard for me to say that these are one of the top-notch toilets you'll find in the market right now. The list has both expensive and affordable options. With that said, I hope your hunt for the best Woodbridge toilet ends here.