If you're on the market for a new toilet, opting for a TOTO model is one of the smartest things you can do. There's no denying that there are lots of other great brands, such as Kohler and American Standard. But when it comes to efficiency, durability, comfort, and convenience, TOTO is the clear winner.
Given their wide range of products, finding the best TOTO toilet for your needs is understandably a time-consuming and somewhat confusing task. But no matter your budget, preferences, or desired specifications, we guarantee there's a TOTO toilet to match it.
Our Top 7 Picks of the Best TOTO Toilet
To help you narrow down your choices, we've reviewed 7 of the best ones below. We've also included a handy buying guide. Let's get started!
Ready to find your perfect TOTO toilet? You've definitely come to the right place. Find our top 7 picks, reviewed below.
Image
Product
Features
Price

TOP PICK

1. Toto MS920CEMFG#01 GFP Washlet

ADA compliant & WaterSense certified
WASHLET bidet seat toilet
Universal Height

Check On Amazon

BUDGET PICK

2. TOTO Drake 2-Piece ADA Toilet

G-Max flushing system
Perfect height
Water saving

Check On Amazon
3. Toto UltraMax II One-Piece Toilet

ADA, WaterSense, CALGreen, and CEC compliant
Powerful Tornado Flush system
Universal Height

Check On Amazon
4. TOTO Eco Ultramax One Piece Toilet

E-Max flushing system
Budget friendly
Lower clogging

Check On Amazon
5. TOTO CST454CEFG#01 Drake Bathroom

Double Cyclone Technology
Powerful & quiet flush
Saves 20% of water

Check On Amazon
6. TOTO Eco Soiree One Piece Toilet

Dual-Max flushing system
Comfortable sitting experience
Easer to clean

Check On Amazon
7. TOTO Aquia Dual Flush Two-Piece Toilet

Dual-Max flushing system
Low water consumption
Standard height

Check On Amazon
1. Toto MS920CEMFG#01 GFP Washlet (Top Pick)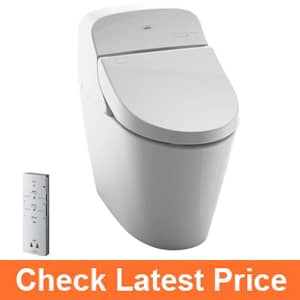 Which TOTO toilet is the best for those who like fancy things? Truthfully, that is a question with multiple answers. But the only one you need to know about, according to us, is the Washlet! Yep, that's right; our next pick is the world-renowned TOTO Washlet, the most high-tech offering from the brand.
Tired of having to clean yourself every time you go to the bathroom? The Washlet is here to save the day with its efficient dual cleansing system.
Be it your front or rear, the five pressure and temperature settings will ensure you're not only squeaky-clean but comfortable as well. And after the cleaning has been accomplished, a gentle flow of warm air automatically dries you.
Equipped with 3D Tornado Flush technology, this toilet promises to keep itself clean for longer and decrease your maintenance time.
Moreover, the PreMist function and Cefiontect glazing work together to keep the bowl clean as well. And, thanks to the integrated deodorizer, you can say bye-bye to embarrassing bathroom smells, too!
Pros
Comes with 5 different bidet cleansing pressure and temperature settings
Dual flush system works with the Tornado Flush technology to reduce water wastage
Comes with a heated seat for a luxurious bathroom experience
Air deodorizer dispels embarrassing smells
Uses only 0.9 gallons of water per flush
Cons
It might be uncomfortable for larger users to sit on
2. TOTO Drake 2-Piece ADA Toilet (Budget Pick)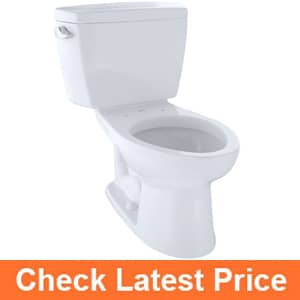 One of the best things about TOTO is their inclusion of toilets for all income ranges. So for those of you operating on a tight budget, the Drake 2-piece is the ultimate answer to the question, "what is the best TOTO toilet to buy?"
Despite being so affordable, this toilet is also one of the brand's most efficient. This is thanks to its G-max flushing system, which is by far the most popular one the brand has devised. Water consumption is kept to a low 1.6 gallons per flush, which is good not only for the environment but for the state of your water bills too.
We also love the design of this water closet, with its elongated bowl. One issue is that you'll have to buy the seat separately, but this actually leaves you with a greater range of choices. Oh, and, due to its 12-inch rough-in, this is also one of the best Toto toilets for a small bathroom.
Pros
Equipped with TOTO's finest G-max flushing system
Uses only 1.6 gallons per flush, saving the environment and your costs
Elongated bowl allows for a comfortable sitting experience
Available in 5 different colors, including ebony and Sedona beige
Fully glazed trap way makes for a lower clogging incidence
Cons
Some users report that the tank and bowl don't sit squarely
One of Toto's noisier toilets
3. Toto UltraMax II One-Piece Toilet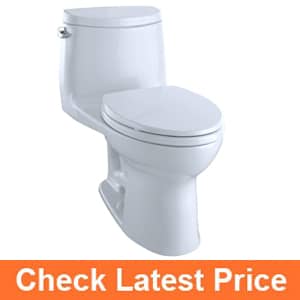 The first TOTO toilet we have selected for your consideration today is the highly-rated and sought after UltraMax II. With an elongated bowl and ADA-compliant universal height, this is the best TOTO toilet to buy if you prioritize comfort.
Constructed from vitreous china, this toilet has a sheen that makes it stand out in any bathroom. Moreover, it's available in a range of attractive colors, so don't worry about matching the aesthetic of your bathroom.
Our favorite thing about this toilet is its Cefiontect glazing. This glazing equips the toilet's bowl with a lubricated surface that makes it difficult for particles to stay stuck to. The result is less downtime for you when cleaning this thing.
Because this is a one-piece toilet, however, you might have a hard time using a plunger if it clogs. Thankfully, however, clogging stays at a minimum, thanks to Toto's ever-dependable design.
Pros
Available in 5 different colors to suit your bathroom's aesthetics
Elongated bowl and standard height combine to make a comfortable experience
SoftClose seat prevents unpleasant slamming
Glazed with Cefiontect to help lower maintenance time
Uses only 1.28 gallons of water per flush
Cons
Using a plunger on this model may be a little difficult due to its design
4. TOTO Eco Ultramax One Piece Toilet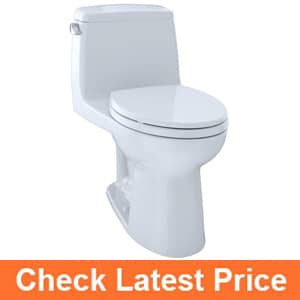 If you love the environment, you will certainly appreciate the UltraMax. This toilet uses only 1.28 gallons of water per flush, which not only gives it an impressive EPA certification but also lowers your water bills.
This is made possible thanks to the inclusion of the E-max flushing system, which has been proven to be one of the most efficient flushing mechanisms in the world.
But it doesn't just work great; it looks amazing too! With its standout vitreous china construction and color availability, the sleek and simple design of this one-piece toilet is undoubtedly one of our favorites. Meanwhile, the elongated bowl ensures a comfortable experience for you no matter the time of day.
It's worth noting that this is also one of the best models to opt for if you're on a budget. Although cheaper options are available from TOTO themselves, you could think of this one as a long-term investment that satisfies not only in terms of durability but performance as well.
Pros
Equipped with the highly efficient E-max flushing system
Wide and fully glazed trapway lowers the incidence of clogging
Sleek one-piece design for an aesthetic upgrade to your bathroom
One of the best models to buy for those on a budget
Available in cotton white, bone, colonial white and Sedona beige
Cons
Some users report a weak flush, but this mainly depends on your water supply
5. TOTO CST454CEFG#01 Drake Bathroom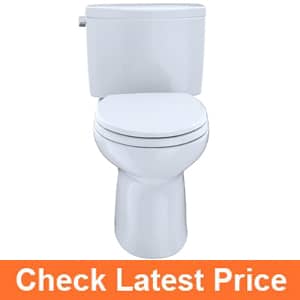 Once again, we bring you an amazing budget choice. This is a different iteration of the Drake, but it's just as efficient and powerful as the last one we reviewed. Its sturdy vitreous china construction and compact size make it a perfect addition to any small to medium bathroom.
We love the traditional aesthetic appeal of a simple white two-piece toilet, and that's why this one stands out to us. Not only does it offer a conventional look, but you can also choose from four different colors to match your aesthetic needs.
And let's not forget the flush! The Drake comes furnished with Toto's Double Cyclone flushing system. It's one of their most efficient, as it uses only 1.28 gallons of water per flush. With a 20% reduction of water usage and easy natural cleaning of trapped particles, this is certainly the best feature of the Drake.
Pros
Comes with a highly efficient Double Cyclone flushing system
One of the quietest budget toilets to be found on the market
Comes in four different shades of beige and white
Uses only 1.28 gallons of water per flush
Cons
Does not come with a seat; must be bought separately
6. TOTO Eco Soiree One Piece Toilet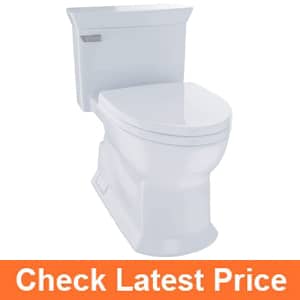 If you're keen on reducing water wastage, the bathroom is a good place to start, given that approximately 30% of a household's water consumption happens there.
As we have already established, TOTO is a leader when it comes to water usage efficiency and responsible treatment of the environment. The Eco Soiree takes that a step further.
Like most TOTO toilets, this one also has a universal height and an elongated skirt. It's equipped with the brand's renowned Dual-Max flushing system, which uses only 1.6 gpf for full flushes and 0.9gpd for partial ones. Your wallet and the environment will both thank you!
We also love the look of this thing, with its premium vitreous china sheen and enviably pretty chrome push button. The toilet's trapway, with full Cefiontect glazing, has a lubricious surface, which prevents annoying particles from accumulating and lowers clogging rates.
If you have hasty kids in your home who are prone to slamming the toilet seat (and possibly injuring themselves!), you'll love the soft-closing lid as well.
Pros
Cefiontect glazing lowers the rate of clogging and makes cleaning easier
Elongated bowl allows for a comfortable sitting experience
Soft-closing lid prevents slamming and enhances the toilet's life
Unique skirted design prevents clogging and eases cleaning
Equipped with Dual-Max flushing system
Cons
Some users say the price doesn't reflect the performance
7. TOTO Aquia Dual Flush Two-Piece Toilet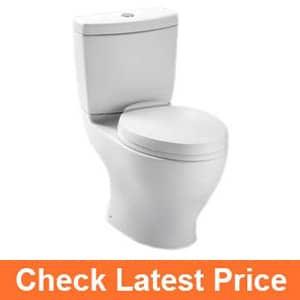 Our final pick today is the Aquia Close Coupled two-piece toilet. Easy to install and moderately priced, this is also one of the most popular selections from the brand. Here's how it ended up on our list of picks.
Equipped with Toto's Dual-Max flushing system, this toilet is one of the best when it comes to highly efficient water closets. The partial flush uses only 0.9 gallons of water per flush, while the full flush uses no more than 1.6gpf.
Are you looking to replace your existing toilet with a more comfortable model? Then the Aquia will certainly appeal to you, with its universal height and elongated bowl. Unfortunately, you'll have to buy the seat separately, but once again, this gives you more control over what kind of seat to get!
Pros
Available in all standard color options to give you greater choice
Certified with EPA WaterSense thanks to a highly efficient flushing system
Elongated front bowl and standard height enhance your comfort in the bathroom
12-inch rough-in makes this toilet ideal for small to medium-sized bathrooms
Cons
Toilet seat must be purchased separately
Before You Buy What to Look For
Here are things you need to consider before investing money in a Toto toilet.
Ask the ADA
The American Disability Act was enacted 30+ years ago to ensure that consumer products would be tailored to match the needs of disabled individuals. What makes TOTO toilets stand out is their ADA compliance, which makes them the ideal choice for every kind of household.
If you are not concerned about American Disability Act, read our article on ADA bathroom requirements Here.
Ask the EPA
EPA stands for the U.S. Environmental Protection Agency. Any product that is EPA-approved is certified in reducing wastage and helping the environment. The main indicator of EPA accreditation in toilets is WaterSense, which means the toilet uses no more than 1.6 GPF of flushing water.
This is highly efficient considering that toilets constitute about 30% of a household's total water usage!
Use Your Tape Measure
Finding the rough-in measurement of a toilet is one of the most toilet size considerations. The rough-in is the distance from the wall to the floor drain, usually between 10 and 14 inches. If your toilet does not match this specification, plumbing and other maintenance tasks become difficult. Remember to also measure the width and length of your toilet rim to ensure your new toilet's seat is the right size.
Other than that, almost every home owner confused between 10 inch Vs 12 inch Vs 14 inch Rough-In Toilet. If you are one of them, please read these article to know which rough in size is best suits to your bathroom.
Think About Toilet Construction
You have two main toilet types to choose from: one-piece and two-piece.
A one-piece combines all components into one unit, meaning they usually have more complex construction and, subsequently, a higher price. However, they're also easier to clean compared to two-piece units, so they're considered one of the best toilet types.
In a two-piece, the tank and bowl of the toilet are separate components joined together. They cost less but are time-consuming in terms of maintenance.
You can also look into wall-mounted models, which offer a premium, contemporary look (with a matching price). Installation of these types is usually more complex, and they typically require extra bracing and/or plumbing.
Consider Extra Features
If you have extra cash to spare, consider investing in a toilet with some fancy additional features:
Arguably the company's top product- TOTO Washlets are toilets fitted with a self-cleaning bidet installed below the seat. It extends to offer an efficient rear and front cleanse using gentle warm water.
Avoid the unpleasant and startling sensation on your backside when you try to use the toilet in cold conditions!
This is an ideal choice for households with small children who are inclined to slam the toilet lid.
●      Touchless Flushing
Too lazy to reach over and flush? Why not invest in a model with touchless flushing, which takes just one wave of your hand?
Some toilets come equipped with Bluetooth audio, Wi-Fi connectivity, and even LED touch panels. These features do use extra electricity, so they're long-term expenses.
Frequently Asked Questions
Q: Who makes TOTO toilets?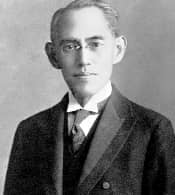 In 1903, Kazuchika Okura, a renowned Japanese inventor, traveled to Europe. There, he encountered toilets with shining ceramic bowls and was inspired to introduce these Western-style flushing toilets in Japan. By 1917, he had founded the Toyo Toki company, now known as TOTO.
Today, it's the world's largest toilet manufacturer and a global household name thanks to numerous innovative functions. Although they have operations in many parts of the world, most TOTO toilets sold in America are manufactured in Georgia.
Q: What toilet is better, Kohler or TOTO?
Understandably, Kohler toilets are close competitors for TOTO ones. Although TOTO toilets are less affordable than Kohler models, they're the clear winner in terms of efficiency. When it comes to comfort and durability, it's pretty much a tie.
However, if you are confused between Toto, Kohler, or American Standards Toilet Brands, read the exclusive comparison guide HERE.
Q: Do TOTO toilets clog?
Every toilet in the world can clog! That being said, the incidence is much lower with a TOTO model, thanks to fully glazed, large trapways. And you'll find that TOTO toilets are much easier to unclog compared to other top toilet brands.
Q: How much is a TOTO Toilet?
No matter your budget, you find a quality selection in TOTO's collection. If you're on a budget, you can find two-piece TOTO models for as low as $250 or as high as $500. Conversely, if you can spend more, you have a wider range of options in one-piece and wall-mounted models.
These are usually around $1000. For fancy additional features (discussed in our buying guide), expect to dish out anywhere between $2500 and $4,000.
Q: What is the standard height for TOTO toilets?
Every TOTO toilet is ADA compliant. This means the distance between the floor to the rim of the bowl is between 17 and 19 inches, allowing for a comfortable experience for everyone.
Q: How to clean TOTO toilet?
A good quality toilet brush goes a long way in cleaning the bowl. For the pan, use a sponge. Remember not to let cleaning chemicals sit for longer than 2-3 minutes. Don't forget to finish up with a disinfectant spray.
Cleaning a Washlet? This video is a great guide.
Q: What is the best TOTO flushing system?
The G-Max flushing system wins easily. Integrating a big flush valve, this system rapidly gets water inside the bowl and exerts added siphoning force to flush out the toilet bowl's contents. There's also the E-Max, which is not only powerful and quiet but efficient too, using only 1.28 GPF.
Apart from G-Max, there are different types of toilet flushing systems available in the market. You may check this out.
Q: Why does my Toto toilet keep running?
There is some common reason for a running toilet – e.g. leaky refill tube, misplacement of flapper seal, weakened gasket and damaged handle. If someone are experiencing a running toilet, it can be easily fix. Follow the universal guideline to fix the issue when the toilet randomly runs.
Here you go – https://toiletsexpert.com/why-does-my-toilet-randomly-run-for-a-few-seconds/
Finally, The Best TOTO Model?
Without a doubt, the Washlet is the best TOTO toilet you can buy. With its world-renowned automatic bidet, the Washlet completely eliminates the need to cleanse yourself at the end of every bathroom trip. And with 5 different pressure and temperature settings, this toilet works to keep you happy.
Not to mention the integration of Tornado Flush technology, which uses only 0.9 GPF and keeps your water bills low. It's certainly an expensive toilet, but when you consider its air dryer, deodorizer, soft-closing lid, heated seat, and PreMist function (to really name a few), it all makes sense.