One thing that most people overlook when they go to the toilet is the toilet seat. The plastic covering on top of the bowl takes your weight and is prone to damage. It can crack, get loose and mostly get dirty with time. What do you do in this case?
You can either clean it, try to tighten the bolts, and see if it works. Sometimes when tightening the seat doesn't work, a complete replacement can come in handy.
For high-quality products, I advise you to check out the best toilet seat in 2023. These are some of the finest in the market, and I have hand-picked them based on their features and functionality. 
Our Top 8 Picks of the Best Toilet Seat of 2023
Being a toilet expert, I had to survey and try out various types of toilets and seats.
There are tons of products flooding the market, but not everything you see is gold. I decided to cherry-pick 8 high-quality seats to make things easier for you.
1. KOHLER K-4639-58 Cachet Quiet-Close Toilet Seat (Best Overall)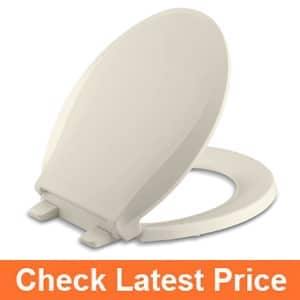 You've probably heard about Kohler here and there. When it comes to bathroom and kitchen products, Kohler is undoubtedly a superior brand.
As I am talking about toilet seats today, let me introduce you to the Kohler K-4639-58. This is a round-shaped seat made with a high-end plastic material that is quite solid and won't deform easily. The dimension of this seat is 16.06 inches in length and 14.18 inches in width. 
This particular model comes with an almond color tone, but you can pick your preferred shade from a wide variety of colorways. 
I love the fact that it has a quiet closing lid, meaning it won't slam or make noise when you close it. The attachments have convenient applications, and it doesn't require any screwdriver or bolts to cement them into place.
The K-4639-58 uses plastic hinges that can unhook the seat in a flash. For those who are seeking a stylish and serviceable toilet seat, this is it.    
Pros
Kohler is a brand you can trust 
Sleek-looking toilet seat
Comes with seat bumpers to avoid shifting
 Quiet closing lid to avoid slamming
 No tools are required to remove the seat
Cons
Plastic hinges are flimsy
2. Bemis 1500EC 000 Toilet Seat (Best Budget)
Not everyone can afford a high-end product, but does that mean they will be left out of quality service?
No! Let me highlight a budget-friendly seat that is equally as good as high-end products. The Bemis 1500EC 000 is a stellar creation that offers fast, easy installation and removal options. Most people hate handling screws and nuts to undo a toilet seat, with Bemis, you won't have to worry about it. 
1500 EC 000 comes with twistable plastic hinges that can easily attach or detach the unit from the bowl. It comes with an elongated shape and will fit the majority of the elongated toilets. This seat is made with top-tier wood material that has been enameled for a smooth gloss finish.
Worried about durability? Don't be. This product is sturdy and made with sustainable materials, thus it is destined to last for a long time. 
Pros
Easy to remove for cleaning purposes
Made with hardwearing wood
Has sustainable, eco-friendly components
The seat can resist sliding, has bumpers
Value for the money
Cons
Does not have a soft closing lid, chances of slamming


3. BEMIS 1000CPT OVERSIZED Toilet Seat (Best Weight Capacity)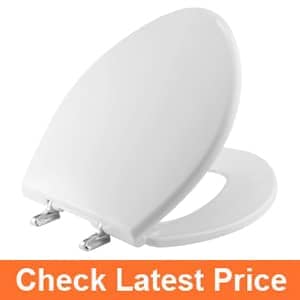 Have you been wondering why your toilet seat deforms when you sit on it?
The chances are that it cannot embrace a certain weight and might be on the verge of breaking. Bemis 1000CPT Paramount is something that can be the solution to your dilemma.
This is an oval-shaped toilet seat that can fit the majority of round or elongated toilet bowls. Bemis is a reliable brand, and you can cash on them without hesitation.
Coming to the weight capacity, it can take up to 1000 lbs., so I can vouch for it that it is extremely sturdy. The unit is made with commercial-grade plastic that can resist stains or chipping. It comes with hinges that are made with rust-proof metal.
I have to mention that this product has to be fastened with STA-TITE nuts, and you will need a wrench to lock it into place.
Don't get perplexed, and the installation is fairly easy. Just follow the manufacturer's instructions. 
Pros
Made with superior commercial-grade plastic
Has non-corrosive metal hinges
The seat is pretty stable and does not move
Ideal for elongated and round toilet bowls
Rugged resign, can withstand 1000 lbs. of weight
Cons
The opening is considerably small compared to the size
4. Bio Bidet Bliss Smart Toilet Seat (Best Bidet)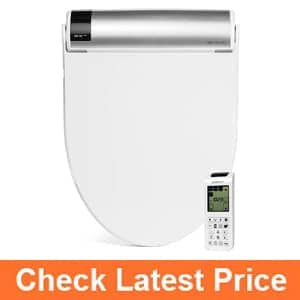 People who are looking for a superior bidet will not have to look elsewhere because Bio Bidet Bliss BB2000 is here. First things first, I was extremely surprised with the functions of this seat. 
Let's start with the material, it is made with ABS plastic and has a stainless-steel nozzle that supplies water. With a bidet, you don't have to worry about washing your genitals because the seat is meant to assist you. 
What makes the Bio Bidet stand out is that it offers adjustable water flow and nozzle settings. To top it up, it has a heated seat so that you can stay comfortable in cold weather. 
Then there is a warm air flow option that will eventually curb the use of tissue paper. It also has a fitted deodorizer, in case you are worried about odors. 
Pros
Made by the reliable Bemis
This bidet is easy to set up
Comes with a built-in deodorizer
Has a heated seat for protection against cold
Provides warm water flow and air
Adjustable options for user convenience
Cons
Consumes a lot of power when temperatures are cranked up
Has a small opening compared to other oval seats
5. Toilet Seat, Quiet-Close Elongated Toilet Seat (Best Wooden)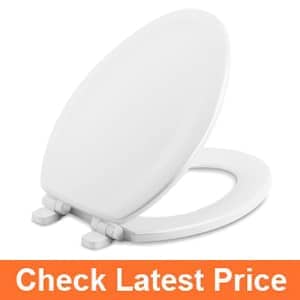 I am not a fan of wooden toilet seats, and I believe plastic materials are better than wood when it comes to toilet products.
That being said, tons of users love the wooden finish, and therefore I have cherry-picked the best one, the Kohler quiet close wooden seat.
Kohler is a leading brand that you can trust, and they make stellar products. This toilet seat is made with engineered wood that is highly commendable due to its solidity. 
The installation is also very easy, and the seat comes with easy attach and detachable hinges. You can easily take off the seat for cleaning purposes without the use of tools. 
What grabs the attention is that it has a slow close lid, which means there won't be any unnecessary slamming. It looks elegant and has an eye-catching white finish to it.  
Pros
Made with sturdy, engineered wood
Won't slam due to the slow closing design
Easy to install
Convenient plastic latches for easy removal
Does not slip due to pre-fitted bumpers
Cons
Has Plastic bolts that can loosen over time
6. Kohler K-20110-0 Brevia Elongated Toilet Seat (Best Elongated)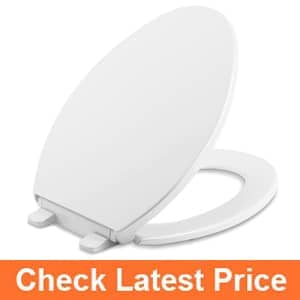 Kohler Never ceases to amaze me, and this is why I have included quite a few of their products. This K-20110-0 is an elongated seat that is fitting for most elongated bowls out there. 
Starting with the craftsmanship, I have to give 9 out of 10 for this elongated model. The built quality is commendable; it has top-tier plastic material that can take on weights without many issues. 
For people who are worried about the slamming noise, then this seat is for you. It has a slow-close feature, meaning you can shut the lid without a banging noise.
The seat has bumpers underneath it that can latch onto the bowl without shifting. When it comes to installation, the easy-to-use wing nut attachments from the underside make it a game changer.
To top it up, there are plastic hinges that are easily undoable so that you can remove the seat in a flash when you clean the toilet. 
Pros
Made with sturdy plastic materials
Slow-close lid minimizes the slamming noise
Trustworthy brand
Withstand sliding, has bumpers
Easy setup and detaching option
Cons
At times the seat makes creaking noise while carrying weight


7. KOHLER Stonewood Round-Front Quiet-Close (Best Round)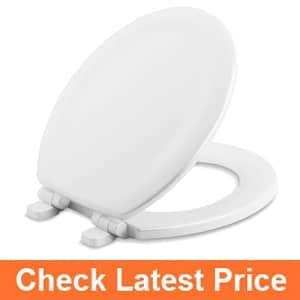 If you are already tired of seeing the name Kohler, there is nothing I can do about it. Kohler has been in the game since 1873 and has been producing top-quality bathroom and kitchen products.
This Stonewood K-20467-0 comes in a white shade and has a strikingly clean look. This is not your average plastic seat. This model is made with engineered Stonewood that is very solid and won't break anytime soon.
But why wood? It can simply complement your bathroom's unique design. 
This model is a round seat and will easily attach to the majority of toilet bowls out there. Weighting just 6.13lbs, you can easily carry it when installing and removing the item. 
It comes with convenient attachment hardware for fast installation. The hinges on the rear have a quick-release feature so that you can undo the seat without stressing out.
Adding to the positives, there are bumpers installed on the under seat to avoid sliding. 
Pros
Striking round design
Slow-closing avoids potential damage
Quick release function for easy cleaning
Bumpers prevent the seat from moving
Ideal for round bowls
Cons
The closing can be annoyingly slow
8. HealthSmart Raised Toilet Seat Riser and Toilet Seat (Best Raised Seat for Elderly)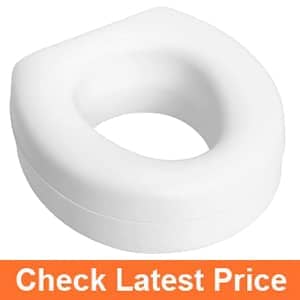 For an injured person, it can be quite hard to sit on a standard-height seat. Even for the elderly, the orthodox height can be quite discomforting.
This is why I have picked the best-raised seat on the market to assist you. This is a riser seat that will give you a 5-inch of added height.
This adjustment can be beneficial when elderly people or injured people go on to stand or sit on the bowl. 
The seat comes with underpads that can withstand unnecessary side movements on the bowl. Then there's the Polyethylene molded cushion to provide comfort while seating.
It's unlike the traditional hard surface; here, your buttock will be embraced by a soft, comfortable cushion. 
HealthSmart riser seat is a universal size, thus it can fit into the majority of toilet bowls without any unwanted adjustments. 
Pros
The seat riser offers 5 inches of extra height
Comes with a soft cushion for better comfort
Has bumper pads to resist slipping
Will attach to most toilets
Ideal for aged people and those with injuries
Can embrace 250 pounds of weight
Cons
No side handles for lifting the riser
Sometimes the seat can move due to added force
How Do You Choose the Best Toilet Seat? 
Without prior knowledge of toilet seats, you are likely to pick up the wrong one.
Don't just walk into a home improvement store and grab a seat. To get the best seat possible, you will need to consider many things.
Here is what you need to look for-
Match the Shape of the Seat With the Bowl
You must purchase a seat that snugly sits on the bowl. First, you will have to determine what bowl shape your toilet has. Check if it's round, elongated, or compact elongated. It can also be in a D shape in many cases. 
For example, if you have a round bowl, then it will embrace a round seat perfectly.
Grabbing an elongated shape will misplace the opening and side areas. You can check the Kohler Stonewood K-20467-0 if you want a round seat.  
Then there are aftermarket seats that offer to fit both round or elongated bowls.
The BEMIS 1000CPT is a seat that can be put up on any elongated or round toilet. 
What Is the Seat Made of?
The toilet seat embraces your weight, so you want something that can carry you without any possible deformation.
Toilet seats can be extremely annoying because most seats crack up over time, and some even bend. This is why you must consider the material of your seat. In general, you will find plastic and wooden seats in home improvement stores.
Not all will be hardwearing, thus it is wise to pick something that has engineered wood or high-strength commercial-grade plastic like the Kohler Wooden Toilet Seat or the BEMIS 1000CPT.
The Color Scheme Matters
Imagine having a white toilet bowl but a black toilet seat on top of it. That's an absurd combination, isn't it?
This is why the color selection is the key to making your toilet stand out. You will find numerous toilet seat shades to fit the bowl; it's just that you have to be creative enough not to make it look funny or appalling. 
Two of my favorites are the cashmere and almond hue. Check out the KOHLER K-4639-47 for a wide range of colorways. 
No One Likes the Slamming Sound
One particular thing I hate about toilet seats is that some units make ear-damaging whacking noise when closed. If you are like me, then you better get a seat that makes no sound. 
A slow-close design is what will suit this case. Slow closing lids not only minimize the sound, but they can also protect the seat from forced impact damages.
Check out the Kohler K-20110-0, it has an excellent quiet closing feature. 
How Easy Is the Setup?
As an expert, I've had the opportunity to come across many different types of installation when it comes to toilet seats. What I can say is that it is better to avoid complicated tools if you are not experienced with instruments. 
Many seats require bolts, nuts, and screwdrivers to affix them properly. Whereas there are units that offer quick yet sturdy installation with convenient attachments, like the Kohler models I mentioned.
They don't require complex utensils to hook up the seat. So, I advise you to get something that you can work with easily rather than complaining about a stressful installation.
The Seat Must Be Easily Removable
To thoroughly clean the toilet properly, it is wise to remove the seat first. This will give you better reach on the previously covered areas.
Another thing is that the seat itself needs cleaning from every angle, and it can't be done with the seat sitting on the bowl. 
For removal, you might need to undo the attachment cover and then use a wrench to unlock the fasteners. It can be pretty daunting.
This is why I prefer seats that can be freed without much work. 
The Kohler seats you see above are easy to work with. Just twisting the wing nuts and pulling the plastic latch can detach the seat in no time. 
You Might Need Some Additional Features
If you have recently gone through any operation, then you must understand how hard it is to sit on regular toilets.
Even older people can suffer from pain trying to adjust their bodies by lowering down. This is why seats with risers can be extremely beneficial. HealthSmart Raised Seat offers a 5-inch added height with soft cushion seats for comfort. 
Sometimes a cold climate can make things hard for you, and you would want a seat with a heating option. Here a bidet like the Bio Bidet Bliss BB2000 can work wonders. 
It not only has a heated seat option, but it will also provide heated air and adjustable warm water flow for your convenience. Not to mention it has an inbuilt deodorizer to tackle odor as well. 
Frequently Asked Questions 
·       Is wood or plastic best for the toilet seat?
Plastic seats are the most common ones because they are durable and will last for ages. Wood, on the other hand, can sometimes chip off, and you better purchase one that promises no such degradation. 
·       Are bemis toilet seats good?
Yes, Bemis is a reputable brand from the USA, and they make high-quality toilet seats. Most importantly, they believe in protecting the earth and therefore use eco-friendly, sustainable materials to make their seats. 
·       How do you tighten a toilet seat?
First, understand how the seat is locked to the bowl. Most seats come with compartments that hide the bolts. Undo the plastic or metal compartments using a flathead screwdriver, and then use a wrench to turn the bolt from the underside of the bowl. You might need WD-40 lubricant to loosen the metal parts if they are corroded. 
Now, if you use a Kohler, as I mentioned above, then you might not need the wrench and all to tighten the seat. Follow the instruction manual provided by the manufacturer for better understanding. 
·       How can I find the right size toilet seat for my toilet?
For the right size, you will first need to measure the old seat's length and width. Use a measuring tape and measure the length from the center of the two bolts to the front edge of the seat. Now use the tape to evaluate the width. 
With the noted readings, you should now purchase a new seat that matches your calculation. 
My Top Pick
Now that you know about so many serviceable toilet seats let me tell you which one is the best toilet seat for me. The KOHLER K-4639-58 wins it.
It is an extremely sturdy seat that won't break easily. Made of high-end plastic and comes with striking shades to compliment your toilet and its surrounding. 
That's not all; it has stabilizing bumpers to stop the seat from moving. Moreover, it has a slow closing system, which means I don't have to worry about the banging noise. 
Don't just rely on this single preference; there are 7 other stellar products in the review section. Pick the one that suits you.