One-piece toilets are a homeowner's dream come true. Well, not exactly, but how can you not think about the sleek and low-profile designs to add to your bathrooms and ramp up your comfort level to a ten!
With the all-in-one units, you can start living the sustainable lifestyle you have been interested in having. They're available in a wide array of styles and features, offering something for everybody. But if you don't know what to look for, this search for the best one piece toilet would be nothing but a fool's errand. 
Here's where we come in, with our top 6 choices and why we think they're amazing to help you out. Check out our buying guide if you need some help. 
Our Top 6 Picks of the Best One Piece Toilet
In a crowded market full of mediocre products, finding one with all the right features can be a little difficult. But once you have looked through our best one piece toilet reviews, you can finally put your investigative skills to rest.
Image
Product
Features
Price

TOP PICK

1. Kohler 3810-0 Santa Rose Comfort Height

Easy to clean
Comfort height
Durable design

Check On Amazon

BUDGET PICK

2. American Standard 2034.314.020 Champion 4

Low water consumption
Powerful flushing systems
ADA Compliant

Check On Amazon
3. Toto MS604114CEFG#03 Bathroom-Hardware

Ensure the best hygiene
Minimal brushing
Big trap way

Check On Amazon
4. GALBA Small Toilet

Soft-close toilet seat
Self-cleaning exterior
Dual Siphonic Flush

Check On Amazon
5. Swiss Madison Well Made Forever SM-1T106

Quick-release seat
Eco-friendly
Affordable price

Check On Amazon
6. WOODBRIDGE 1-0019 Cotton

Powerful and quiet flush
Luxurious modern design
ADA Compliant toilet

Check On Amazon
1. Kohler 3810-0 Santa Rose Comfort Height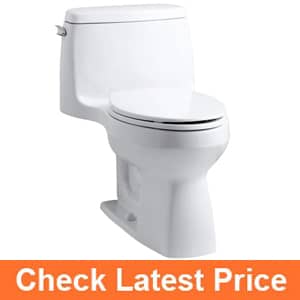 Using the word 'stellar' for a toilet may be bizarre, but that's the first word that comes into mind when you look at this best flushing one-piece toilet. It has a continuous design, with just a few creases and seams that give it a clean and finished look.
The top of the rim reaches the height of a standard chair, increasing the ease of use for people of every length and age. It is quite compact despite having an elongated bowl and does not need much space at all. And you have different colors to choose from, depending on the color scheme you want. 
This commode is equipped with AquaPiston flush which creates 360 degrees cleaning of the commode. It is very swift and consumes only 1.28 gallons of water. 
Pros
AquaPiston flushing system which is swift and powerful
WaterSense certified to consume less water
Efficient and comfortable to use
Easy to clean because of the lack of seams and creases
2. American Standard 2034.314.020, Champion 4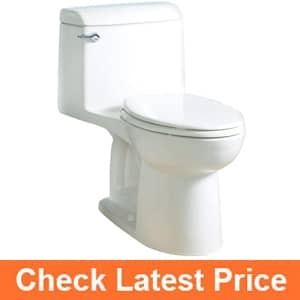 You never expect toilets to be the topic of conversations, but homeowners are always gushing about how amazing the American Standard Champion 4 is as one of the best one-piece toilets on the market. 
This budget-friendly toilet has a remarkable reputation for its capability to move 70% larger mass than most standard fixtures. It can be found in different shades of soft colors such as bone, linen, and white. And to top it off, it has a high-gloss glaze finishing to stay shiny and great looking even after regular use. 
The top coating, which is generally known as the EverClean glaze, has been technologically designed to stop the growth of mildew and mold, and other odor and discoloration causing bacteria. 
While most manufacturers claim of having the biggest flush valves are proven to be false, the system used in this toilet forces down water from all angles and cleans the bow in less than a second. And it uses only 1.6 GPF, helping you actively conserve water. 
Pros
Easy to clean with the integrated tank 
Powerful flushing system to remove 70% larger masses
ADA compliant so can be used commercially and in public bathrooms
Reduce power bills and save water
Cons
Toilet seat isn't included
3. Toto MS604114CEFG#03 Bathroom-Hardware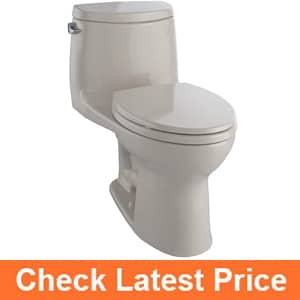 Toto has well earned its reputation as one of the leading installation manufacturers in the industry. So, it's no surprise that this best one-piece dual flush toilet will exceed your expectations and never disappoint over many years of use. 
This toilet is a perfect example of efficiency. It has even got the WaterSense seal of approval! Using only 1.28 gallons per flush, the TOTO tornado flush system, which uses the double cyclone flush system, gets rid of the waste in an instant. 
Rest assured, manufacturers have put equal functional emphasis on the exterior as well. The CEFIONTECT glaze prevents dirt and germs from adhering while the SanaGlosslayer stops bacteria from growing. So, not only your toilet will look top-notch over the years but also be extremely hygienic. 
Pros
Easy to keep clean with minimal brushing
SanaGloss glaze to ensure the best hygiene
Hinge mechanism for the soft close seat
Large trap way to allow more waste to exit
Cons
A little high for people of short stature 
4. GALBA Small Toilet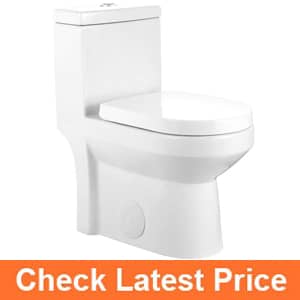 GALBA toilets may be small, but don't let the size fool you. For a reasonable price, you can check out all the features of the perfect toilet. 
This fixture should be a staple for powder rooms and tiny bathrooms. It has a dual-flush system, using 0.8 to 1.6 gallons per flush depending on the kind of waste it must force down. Even the most stubborn masses stand no chance against it. 
The GALBA all-in-one-unit is well designed, with a glazed surface resistant to cracks and dirt. Accompanied by the soft-close seating arrangement, each unit has been built to last. You will no longer dread accidentally smashing your lid and splitting it apart. 
The GALBA logo on the tank may be a big turn off for some people. But when compared to the benefits you will be getting; it doesn't seem that significant. 
Pros
Self-cleaning exterior
Dual flush depending on the type of waste
Soft-close toilet seat to prevent loud smashing
Best one-piece toilet for small bathroom 
Cons
Logo on the tank 
The lid can rock slightly
5. Swiss Madison Well Made Forever SM-1T106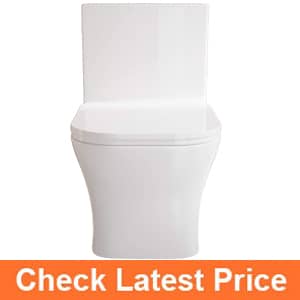 Fixtures and faucets can change the appeal of your bathroom in a single moment, and Swiss Madison prides on creating high-end products that scream luxury along with unmatched performance. 
The sleek skirted design of the Concorde is befitting for any modern bathroom. It has a seamless finishing devoid of creases and crevices that makes cleaning a breeze. And you will love how stylish the square porcelain bowl shape looks in place of the popular elongated or round options. 
The dual-flush mechanism switches between two modes; a low and high-power flush. Depending on the button you press, you will trigger the release of either 0.8 GPF or 1.28 GPF which makes it highly eco-friendly and water-saving.  
This unit from one of the top toilet brands has a concealed trap-way to capture the awful smell and prevent it from stinking up your bathrooms.
And when it's time, don't those rubber gloves and gear up with a plunger/ the quick-release seat makes the job so much easier. Just unlatch it before you start and fasten it back afterward. 
Pros
Visually appealing design for a modern look
Dual flush system to be eco-friendly
Quick-release seat for easier cleaning 
Affordable price range
6. WOODBRIDGE 1-0019 Cotton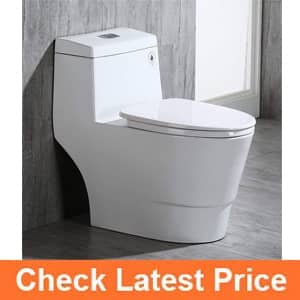 Unlike most things, good toilets are nothing extravagant and need only three qualities: an efficient flushing system, a pristine outlook, and a comfortable seat. The Woodbridge 1-0019 Cotton model has them all and is on a different league than most other toilets. 
It has an elegant design that complements most bathroom schemes and has clean lines for a sleek outlook. With stainless steel hinges on the seat and fade-resistant glazed surface, this commode guarantees durability. 
The siphon flush system is powerful but almost soundless, an attribute most homeowners love. You can alternate between the dual flush options depending on your use, and it kills everything in the bowl. Say goodbye to your regular battles with clogs and messes. 
Installation is almost hassle-free. While the instructions and setup are pretty clear, you still need an assistant to help you carry and place the toilet around.
Pros
Comfort height for easy accessibility
Seamless design for easy cleaning
Stainless steel hinges for added durability
Powerful and quiet flush for extra user comfortability
What Is a One Piece Toilet? 
As the name suggests, one-piece toilets are commodes whose toilets and tanks are fused in a continuous design. They are devoid of any joints and crevices. These commodes are also commonly known as single piece toilets which were first developed by British inventor Thomas Twyford in 1985.
On the other hand, if the toilets and tanks are disconnected and need to be fitted together, they are known as two-piece toilets or coupled toilets.
Why Buy a One Piece Toilet? 
Both one-piece and two-piece toilets have identical features. So, should you go through all the trouble searching for the one-piece toilet, when you could get the two-piece toilet at a lesser price?
The answer is always, yes! Single toilets have come a long way from their original design of 1885 and have amazing functions to look out for. 
While seat comfort is always a priority when it comes to toilets, the height also influences the user experience.
The toilet bowls of the one-piece commodes is usually situated 17-inches off the ground which provides sturdy back support to your back and knees. This will help greatly if you have elderly people in the house or people with physical disabilities. If you confused with the right height of your toilets, follow this guide –
Comfort Height vs Chair Height vs Standard Height Toilet – Which One to Pick?
A little bit of DIY experience would go a long way when it comes to setting up single piece toilets. Fewer parts mean lesser attachments to stress you out. And because of its ergonomic design, you don't need to hire a plumber or handyman to tighten the tank to the toilet bowl. 
Most of the models are generally smaller in size and are a spectacular fit for tiny bathrooms. The difference isn't much but combined with a sleek design and wall-hung tankless options you can save sufficient space. Your bathrooms will feel airy and less stuffy. 
Dual flush systems are a common feature of many single commodes. So, you can choose the low or high-powered flushing mechanism and control the amount of water released. This makes the toilets very eco-friendly and energy saving, especially if they have a WaterSense seal. 
Because of the seamless design and lack of crevices, joints and nooks, the single-piece toilets are hassle-free to clean. This also entails a lack of breeding ground for disgusting mildew and bacteria.
Since the one-piece designs do not need any additional fittings, they are easier to maintain. The materials used increase the sturdiness of the fixture and prevent cracking and splitting. 
Because of the fused layout, there will be fewer possibilities of breaking down and leaking from the joints. So, fewer things for you to worry about!
While the all-one-piece units are heavier and larger than the two-piece toilets, shipping for it, on the other hand, is less troublesome. You won't have any mismatched or lost parts when the attachments are sent separately. 
The exterior of the single-piece units has a glazed finish which is resistant to stains and fading. It also prevents particles from sticking, so you will get a shiny and clean outlook even after many years of use. 
Water seeping out of the toilet is one of the most annoying things to come across. It could be because of faulty wax ring. But with a closed-up toilet, there will be fewer joints and openings for that to happen. 
These are some of the many advantages you can get from a one-piece toilet, which outweighs whatever drawbacks you might come up with. 
Final Words
Toilets aren't something you shouldn't skimp on. They are permanent fixtures of your home, lasting for decades at a time if not more. So, consider the factors of what would be the right toilet before you make a purchase. Investing in the best one piece toilet should save you money and stress, not bring in more trouble.