Who said two-piece toilets are conventional? As an expert in the toilet industry with over 15 years of experience, I've explored a range of two-piece toilets.
Manufacturers like TOTO, Kohler, and American Standard never compromise. They have included features like EverClean outer surface on the toilet's exterior and siphon action-jetted flush.
Not to forget about your comfort with ADA-compliant height, and functional slam-resistant lid. And, most importantly, sophisticated designs to meet modern preferences. 
I've picked five of the best two-piece toilets to help you choose the best one for your home from my years of experience.
Our Top 5 Picks of the Best Two-Piece Toilet
Below are listed five of the best two-piece toilets from top manufacturers in the world. You need to look at reviews before you buy one for your bathroom. 
1. American Standard 2988101.020 Cadet 3 FloWise 2-Piece Round Front Toilet (Best Overall)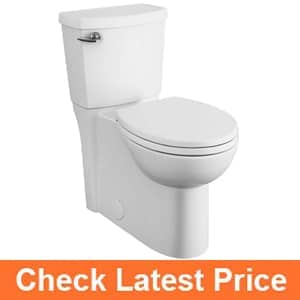 The American Standard Round Front Toilet with 'Concealed Trapway' in my bathroom has been a great experience.
This two-piece toilet includes a powerful 1.28-gallon flush system that saves up to 20% more water than a standard 1.6-gallon toilet, which ultimately had a great impact on my monthly utility bill.
The toilet also has a non-scratch EverClean surface which helps to keep it cleaner for longer, plus makes the toilet look seamless with my white bathroom interior. Additionally, the right height bowl ensures maximum comfort for every member of my family.
This model includes a slow-close seat lid that prevents slamming. So, no more broken toilet seats on those busy mornings. But, the installation process can be a nightmare for people with no plumbing experience.
Pros
The toilet cleans itself with a powerful flush
The surface remains dirt and scratch-free
Height is comfortable and designed for ease of use
Cons
Installation is tricky as the additional nuts and bolts might confuse you
2. Kohler K-3999-0 Highline Comfort Height Two-piece Elongated 1.28 Gpf Toilet (Best Budget)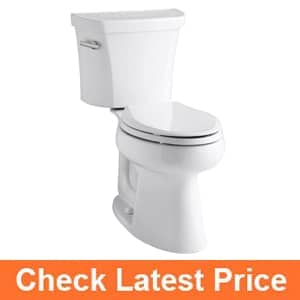 The high comfort height of Kohler K-3999-0 is perfect for my tallest family member, who had complained about squatting with modern low-height commodes.
It features Class Five Flushing Technology, which ensures that it will flush powerfully and effectively every time, leaving no residue behind.
Additionally, the left-hand trip lever provides an easy-to-use handle that is ergonomically designed for comfort and convenience for an OCD person like me.
The 1.28 gallon per flush rate is both efficient and powerful and refills very quickly. Thankfully, there are no minutes of hissing like in my previous toilet.
However, the flush makes a loud noise when the waterfalls, so you may need to prepare to wear your ear muffs while flushing.
Pros
Comfortable sitting and standing
Flush refills very fast
Powerful flushing
3. TOTO Drake Two-Piece Elongated 1.6 GPF Universal Height TORNADO FLUSH Toilet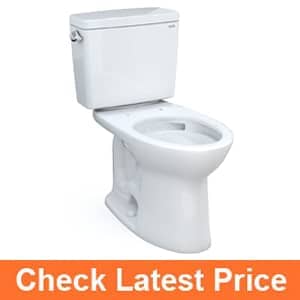 The TOTO Drake Two-piece Elongated Tornado Flush toilet is all up for saving our time and money. You may ask how? With its potent flush system and stain-resisting technology! I bet cleaning Toto will be less hassle than your current toilet.
Its superior 1.6 GPF tornado flush system cleans the entire bowl with just one flush- you won't need to go for another. It helped me subside my annual water bill substantially.
The Universal Height design provides a comfortable seating experience for all users. I didn't receive a complaint from my tallest family member (nearly 182 cm) that the toilet seat was too low for him. 
Finally, the CEFIONTECT glaze along with the rimless design makes it easier to keep the bowl clean by helping to prevent debris and mold from sticking to the surface.
Like my previous toilet, now I don't have to spend half of the day of my weekend cleaning the toilet rim. All credit goes to its 360-degree cleaning feature.
On the contrary, the installation process can be a bit time-consuming.
Pros
Take less effort and time to clean the bowl
Doesn't clog like other two-seat toilets
Makes a comfortable experience for adult users of all heights  
Cons
The surface is not splash resistant
4. American Standard 2462016.020 Cadet 1.6 GPF 2-Piece Elongated Toilet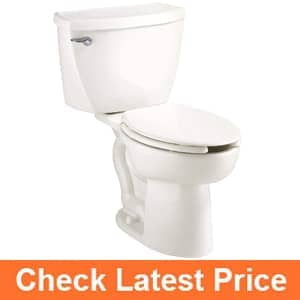 My guest bedroom has The American Standard Elongated Toilet with 12-inch Rough-In. It has a pressure-assisted siphon jet flush that scrubs the bowl clean with every flush and provides maximum flushing performance.
Plus, the EverClean surface helps to keep the bowl cleaner for longer. I spend less time cleaning the guest bathroom toilet.
The elongated shape adds comfort for extended use as your thighs have support. Kids can also sit on the elongated bowl without fearing falling.
However, make sure you close the bathroom door at night while flushing. Because the 'Tiger-Roaring Noise' can wake your family up!
Pros
Powerful flush is excellent at flushing solids
Easy to clean surface
Comfortable to sit
Cons
The flushing sound is extremely loud
5. KOHLER K-6669-0 Memoirs Stately Comfort Height 2-Piece Elongated Toilet
The KOHLER K-6669-0 Elongated Toilet has comfortable chair-height seating that makes it easier to get on and off. I don't feel like squatting too much using this masterpiece.
Its left-hand trip lever provides a seamless flush with 1.6 gallons per flush. The larger concealed trapway gives the toilet an efficient flush with the help of its AquaPiston canister flushing technology for a fast and powerful flush.
The toilet also has a unique design with straight lines and an elongated bowl for more space. Not only does it look elegant, but it makes my compact bathroom look more spacious than my previous round bowl toilet.
Plus, the vitreous china construction is durable and resistant to scratches and stains, which makes my toilet cleaning days easier. But ensure you have care and patience while handling the seat and lid because the china may break if slammed hard.
Pros
Saves space and looks royal
Comfortable chair-height
Strong flushing keeps the bowl clean
Cons
The seat is not slam-free, therefore, it needs to be handled with care
Why Two-Piece Toilet?
Two-piece toilets offer numerous benefits that can make them the ideal choice for some households. Some of those are
+ Easy to Transport
The fact that they come in two parts makes them easier to transport and handle, as well as easier to access for repairs.
+ Elevates Your Toilet Experience
Many two-piece toilets come with an elongated bowl, which provides added room and comfort while sitting on the toilet. Additionally, some models come with a chair-height design which allows for a comfortable height while seated.
+ Great for Compact Bathrooms
The two pieces can be separated, allowing you to find the perfect fit for your bathroom without having to sacrifice space or compromise on performance. This can be especially helpful if you have a tight area to work with.
+ Has Technologized Flushing Mechanism
Two-piece toilets also offer superior flushing power compared to one-piece toilets. As the two pieces are separate, water pressure is much greater when flushing – providing powerful and efficient flushing power. This is important when dealing with larger amounts of waste.
Two-Piece Toilet Major Issues
Two-piece toilets have several drawbacks
– Complex Installation
Firstly, installation is more complex than that of one-piece toilets. The separate tank and bowl must be carefully aligned during installation.
– Vulnerable to Leakage
Secondly, due to the design, two-piece toilets can be more prone to leaking as the connection between the bowl and tank is not as secure. According to my experience, bacteria and grime can build up easily in that area if not cleaned regularly. 
– Doesn't Look Appealing in Modern Bathroom Decor
Finally, two-piece toilets are often less aesthetically pleasing than their one-piece counterparts, as the gap between the bowl and tank can be visible. For this reason, two-piece toilets tend to be less expensive than one-piece toilets.
How to Choose the Best Two-Piece Toilets?
When selecting the best two-piece toilets, it's important to consider both performance and style.
Style and Design
Two-piece toilets usually come in two main styles: elongated and round. The elongated shape is more comfortable but takes up more space.
On the other hand, round models are more compact and fit better in tight spaces. Also, elongated seats are more comfortable due to the extended surface area that keeps your thighs rested.
Performance
As for performance, choose a toilet with a flushing system that meets your needs. Look for features like power-flush technology for effectively cleaning solids in a single flush. This will prevent clogging.
Water Usage
Another important factor to take into account is how much water the toilet uses per flush.
Many toilets on the market are designed with water-saving features, such as dual flush systems, which allow you to adjust the amount of water used for different types of flushes. The EPA has established the WaterSense rating system to help consumers identify high-efficiency toilets.
Frequently Asked Questions
1.    Are 2-piece toilets good?
Two-piece toilets are quite affordable and are great for saving water. However, it can be difficult to clean the exterior as you have to reach the nooks and crannies between the bowl and tank.  
2.    Which brand of toilet is most reliable?
Well-known toilet manufacturer Kohler is one of the most reliable brands for toilets.
3.    Which is better: a one-piece toilet or a two-piece toilet?
One-piece toilets are heavier, aesthetically pleasing and are easy-to-maintain. Whereas two-piece toilets have a comfortable height and have amazing flushing technology, but are hard to keep clean.
4.    Which type of toilet flush is best?
Consider your needs, budget, and efficiency when selecting a flush. Some of the most common types of toilet flushes include single flush, dual flush, and pressure-assisted flushing. Consider which type is best suited to meet your needs.
5.    What is the most popular toilet shape?
Oval-shaped or elongated toilets are preferred by most users because this shape provides more surface area to rest your thigh. 
6.    What are the most often replaced toilet parts?
Flush valves and handles are the most commonly replaced toilet parts because they can be damaged very often due to improper handling.
Conclusion
If you're looking for a toilet that complies with comfort, self-cleanliness and superior flushing technology, the American Standard 2989101.020 Elongated Toilet is the best two-piece toilet that is well-fitted.
You won't have to waste time scrubbing your toilet with the EverClean surface's stain resistance which prevents stains from sticking, giving you a cleaner and fresher toilet for long periods of time.
Plus, the flush is so potent that the bowl becomes fresh with every flush.